Lockheed Martin [LMT] said Monday it has put in a bid to compete for the Next Generation Interceptor (NGI) missile defense program and is working to avoid the pitfalls of the previous Redesigned Kill Vehicle (RKV) program.
"We are excited to confirm we are putting in a bid for the Next Generation Interceptor," Sarah Reeves, vice president of Missile Defense Programs at Lockheed Martin Space, told reporters during a press call.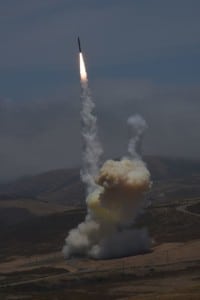 Reeves argued that while the RKV program was terminated due to technical, cost and delay concerns, "in the meantime we had been investing as a company over the last two decades on multi-kill vehicle technology."
Boeing [BA] was the prime contractor on RKV, with Raytheon Technologies [RTX] serving as the subcontractor that actually developed it.
MDA released the NGI Request for Proposals in April and intends to award two contractors for simultaneous development of NGI options before eventually settling on final provider (Defense Daily, April 24).
Lockheed Martin joins a Northrop Grumman [NOC] – Raytheon Technologies [RTX] partnership and Boeing as NGI competitors.
Northrop Grumman revealed its participation in May as a prime contractor working with Raytheon on one bid while Boeing first confirmed it was competing for NGI in March (Defense Daily, May 8).
In March, former Undersecretary of Defense for Research and Engineering Mike Griffin said he expected four companies to submit bids for NGI well (Defense Daily, March 11).
The Pentagon canceled the former RKV program last year due to technical issues that caused large schedule delays and cost increases to maintain it. The Missile Defense Agency (MDA) then redirected attention to the new NGI program (Defense Daily, Aug. 21).
Whereas the RKV was only upgrading and replacing the kill vehicle at the end of the missile interceptor, the NGI aims to replace the entire missile, including the rocket booster and kill vehicle. The current missiles are Ground Based Interceptors (GBIs) as part of the Ground-based Midcourse Defense (GMD) system, based in Fort Greely, Alaska, and Vandenberg Air Force Base, Calif.
A Government Accountability Office (GAO) report released last month said MDA and contractors were warned numerous times about technical risks and performance issues, but did not properly address them. The report noted the most significant issue in the RKV cancellation was the use of commercial off-the-shelf parts and re-use of Raytheon Aegis Standard Missile (SM)-3 Block IIA missile components (Defense Daily, July 23).
"We are looking carefully at the lessons learned from RKV, including part survivability testing, which in that program was done too late and caused the major system redesign, as well as ensuring we do early and often testing," Reeves said.
Lockheed Martin is also using a 'fly before you buy' mentality and she assured the company will fly two successful intercepts before going into production.
Reeves said while the initial GMD system initially created two decades ago was not yet ready for this technology, "the time is right now. We have significant investments."
Reeves underscored the problem with RKV was "it was trying to leverage existing franchise programs and wasn't able to do enough of the redesign upfront to ensure that it was going to be able to meet the mission for homeland defense."
However, since GMD was rushed into initial limited capabilities in 2004 with the first GBIs, Reeves argued "it never really got an opportunity to go through a full EMD [engineering and manufacturing development phase]" and RKV was meant to be an interim redesign capability before moving on to NGI.
In contrast, NGI will be the first time the Pentagon and contractors will build the system from the ground up "and start with a requirement for the mission and apply them appropriately."
She said the company will leverage its current missile defense and space programs, notably the Aegis Combat System, Terminal High Altitude Area Defense (THAAD) program, and being a partner in the Navy's Trident II D-5 ballistic missile with its space element. Reeves said THAAD has had a 100 percent mission success rate.
Reeves noted the Lockheed Martin acknowledges the importance of program schedule and has seen both MDA Director Vice Adm. Jon Hill and U.S. Northern Command head Air Force Gen. Terrence O'Shaughnessy have spoken of the need and possibility of moving faster than planned.
While former Undersecretary of Defense for Research and Engineering Mike Griffin said he expected NGI to take about 10 years to reach deployment, in March Hill said delivering NGI faster depends on the capabilities of the industrial base (Defense Daily, March 10).
Reeves said Lockheed Martin expects to do that by using new tools like artificial intelligence, machine learning, big data analytics, networked factories, and 3-D printing "to accelerate the schedule and deliver a product faster than we have in the past."