Northrop Grumman [NOC] will serve as prime contractor in a partnership with Raytheon Technologies
[RTX] as they bid for the Missile Defense Agency's (MDA) Next Generation Interceptor (NGI).
The companies announced the joint effort last this week. They noted together they already produce the interceptor booster, kill vehicle, ground systems, fire control and engagement coordination for the Ground-based Midcourse Defense (GMD) system (Defense Daily, May 4).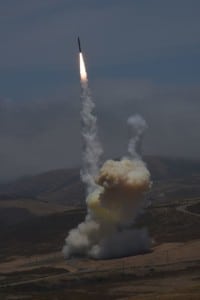 NGI is the MDA's replacement for the Redesigned Kill Vehicle (RKV), which was canceled last August due to technical design problems and deficiencies (Defense Daily, Aug. 21).
Both RKV and now NGI aim to add 20 interceptors to the GMD system. Whereas RKV was only going to improve the current Ground-Based Interceptor kill vehicle atop the missile, the NGI seeks to replace the entire missile and kill vehicle.
Boeing [BA] was the prime contractor for RKV while Raytheon served as the subcontractor and actually developed it. Northrop Grumman was not part of the RKV team.
Northrop Grumman spokesman Scott Day told Defense Daily in an email the companies will "leverage their collective experience (including accomplishments and lessons learned under the RKV program) to deliver a best value solution for the Missile Defense Agency that will lead to successful contract performance and fully support the warfighter."
He argued the partnership "has unique competencies, technologies, expertise and people to address this challenge" and are "well positioned" to support the customer and warfighter in the missile defense program.
In contrast, Boeing spokesman Jerry Drelling told Defense Daily in an email they are not currently discussing any potential partnerships for their NGI bid.
"Boeing is honored to respond to the U.S. Missile Defense Agency's (MDA) Request for Proposals for the Next Generation Interceptor. We look forward continuing our partnership and will provide a solution that meets our nation's needs at an affordable cost to the taxpayer."
Day underscored the companies believe they offer the best value for MDA with Northrop Grumman's experience as a prime system integrator for aerospace and defense programs like missiles, launch vehicles, aircraft, and satellites while with Raytheon they already have combined experience with the GMD program.
"Given this background, we chose to prime this program," Day added.
In March, Undersecretary of Defense for Research and Engineering Mike Griffin told lawmakers he expects bids from four companies. At the time, Boeing confirmed to Defense Daily it indeed plans to compete for the NGI program (Defense Daily, March 11).
Griffin said he expects NGI to take about 10 years to reach deployment with a 75 percent confidence level.
Last month, MDA released the NGI Request for Proposals (RFP) with the intention of awarding two contractors for simultaneous development of NGI options (Defense Daily, April 24).
Upon the publication of the RFP, MDA spokesman Mark Wright told Defense Daily the agency estimates the total cost of designing, developing, and fielding 50 NGIs will be over $11 billion if it keeps two prime contractor competitors through the critical design review period.