Lockheed Martin [LMT] expects to deliver the first F-model anti-tank Javelin missiles to the Army this fall, with plans to complete the first lot of initial production deliveries by the end of February 2021. 
Dave Pantano, vice president of Lockheed Martin's Javelin joint venture with
Raytheon [RTN], told Defense Daily the company anticipates fulfilling the Army's initial order for 2,100 of the new F-model Javelins by November 2021.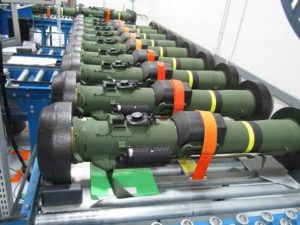 "We must build an entire lot of rounds before they continue through the delivery process," Pantano said. "The rounds will then go through Quality Assurance Lot Verification Testing, which takes approximately six weeks. Based on this timeline, we expect to deliver these first missiles in the fall."
On Wednesday, Lockheed Martin announced the Javelin JV had recently completed production of the first F-model missile, which Pantano confirmed occurred March 26 at the company's facility in Troy, Alabama (Defense Daily, March 6). 
Pantano also provided the breakdown of the 2,100 missiles included in the initial F-model order, with 511 rounds to be delivered by next February, another 538 rounds by May 2021, followed by 525 rounds before the end of August 2021 then the final 526 rounds before the end of next November. 
The Army awarded Lockheed Martin and Raytheon the initial production contract for F-models in January 2019 following a series of successful qualification tests for the new weapon, including 21 flight tests (Defense Daily, Jan. 30 2019).
The new F-model Javelin includes a new advanced multipurpose warhead and is designed to defeat future complex armor threats, such as explosive reactive armor.
"F-Model also adds a fragmenting steel warhead case to significantly increase effectiveness against soft targets and light armored vehicles. The new warhead combines multiple warhead effects, such as blast fragmentation and high-explosive anti-tank, into a single missile," Pantano said. "The F-Model features advanced tracker/missile software that improves hit point location, leading to increased lethality, specifically against main battle tanks. In addition, missile software was updated to optimize the effects of the multipurpose warhead against multiple target sets."