The nominee to be Secretary of the Navy told lawmakers unmanned vessels could provide ballistic missile defense (BMD) capability and take some of the onus off of existing Aegis DDG-51 destroyers.
In written policy question answers to the Senate Armed Services Committee, nominee Kenneth Braithwaite responded to a question asking if there are opportunities to transition some missile defense of land-based forces to other Navy or land-based assets to free up Aegis BMD ships for maritime missions.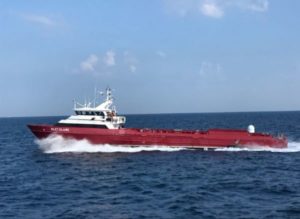 He said "I believe there are several opportunities where advancements in technologies can transition traditional missions and roles from the current Aegis BMD ships."
Braithwaite argued one example was that the in-development Large Unmanned Surface Vessels (LUSVs) "if configured accordingly, could provide BMD capability similar to BMD DDGs and offer flexibility of employment for Aegis BMD ships."
The questions and answers were released during Braithwaite's confirmation hearing on May 7 (Defense Daily, May 8).
Braithwaite has served as the Ambassador to Norway since 2017 and previously served in the Navy for 27 years. He started as an aviator before moving to public affairs and rising to Rear Admiral in the reserves as Navy Vice Chief of Information. He  worked in the private sector and served on the staff of former Sen. Arlen Specter (R/D-Pa.).
Braithwaite said if confirmed he would explore all options that provide required combat capabilities "at the most value" to combatant commanders.
After Congress' FY 2020 budget pushed back strongly on the Navy's plans for a 10-ship LUSV fleet and prevented the vessel from using vertical launch tubes before it is more mature, the Navy's FY 2021 budget request outlined a slower strategy with schedule adjustments (Defense Daily, Feb. 14).
The Navy expects to award a conceptual design contract to multiple vendors in the fourth quarter of FY 2020 to support refinement of the LUSV performance specification. The service expects the final specification to define a LUSV with reservations in the design to support future integration of various capabilities and payloads.
The LUSV detail design and construction contract is expected to be awarded in FY '22 and deliver a prototype without the vertical launch tubes.
The Navy's budget request said it aims for a final LUSV to have an integrated combat system and payloads that support anti-surface warfare and strike mission areas.