The nominee to be the next Secretary of the Navy said Thursday during his confirmation hearing he will advocate for a fleet larger than 355 ships, more attack submarines, and consider another destroyer block buy.
During his confirmation hearing before the Senate Armed Services Committee Sen. Roger Wicker (R-Miss.) asked Kenneth Braithwaite what his thoughts were about the Defense Department's plans for a fleet goal of over 355 ships.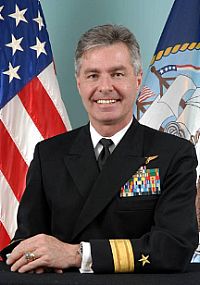 Braithwaite said he understands the Office of the Secretary of Defense is looking into a comprehensive future force plan and will push for the Navy's goal.
"If confirmed, I look to a role as being the chief advocate to build a fleet greater than 355 ships," he said.
In February, former Acting Secretary of the Navy Thomas Modly said the latest force structure assessment called for a fleet of 390 manned ships that rises to about 435 when including unmanned vessels (Defense Daily, Feb. 28).
The current Ambassador to Norway, Braithwaite is a 27-year veteran of the Navy and Navy Reserve. He began his career as an aviator before switching to public affairs. He rose to rear admiral in the reserves and served as the Navy's Vice Chief of Information before leaving the service.
Braithwaite said he agreed with Wicker than block buys are a good deal for other ship classes like amphibious vessels and noted he generally supports block buy contracts for vessels and aircraft.
Braithwaite also committed to Sen. Angus King (I-Maine) that he would seriously consider pushing for a second multi-year procurement contract for additional DDG-51 destroyers in fiscal year 2023.
Calling the Arleigh Burke-class destroyers the "backbone to the fleet," he noted that "as a former group purchasing executive I couldn't agree with you more in a group buy approach. That's great for the people of America and being good stewards to the taxpayer."
In response to Sen. Richard Blumenthal (D-Conn.), the nominee said he would push for a second submarine in the FY 2021 budget and the overall Navy goal of 66 submarines.
"As a naval aviator who spent a lot of time hunting submarines, Soviet submarines, I worked very closely with our subsurface force…they are extremely important to our national security. I believe we should work toward 66 boats as you and I discussed and I will be a big advocate for that," he said.
Before being appointed ambassador in 2017 and after leaving the Navy, Braithwaite served as group senior vice president for Vizient, executive director of the Delaware Valley Healthcare Council, vice president of government affairs for Ascension Health, a councilman in Pennsylvania, and state director to former Sen. Arlen Specter (Pa.).
President Trump first said he planned to nominate Braithwaite in November to replace the last Secretary of the Navy, Richard Spencer. At the time, Secretary of Defense Mark Esper said he recommended Braithwaite to the president (Defense Daily, Nov. 25, 2019).
However, only in in February did the White House actually officially announce the intention to nominate Braithwaite (Defense Daily, Feb. 28)