The State Department has approved a $2.3 billion deal with Egypt for 43 refurbished AH-64E Apache helicopters and the sale of over 4,500 Mine Resistant Ambush Protected (MRAP) vehicles to the UAE for $556 million.
The Defense Security Cooperation Agency notified Congress of both foreign military sales on Thursday.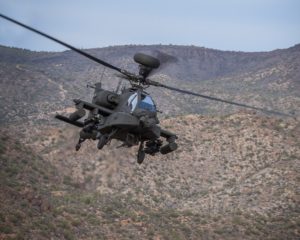 Under the Apache helicopter deal, Egypt will also receive T700-GE-701D engines, AAR-57 Common Missile Warning Systems, Hellfire missile launchers and M230 automatic guns.
"Egypt intends to use these refurbished AH-64 helicopters to modernize its armed forces to address the shared U.S.-Egyptian interest in countering terrorist activities emanating from the Sinai Peninsula, which threaten Egyptian and Israeli security and undermine regional stability," DSCA officials wrote in a statement. 
The latest deal follows a $1 billion FMS with Egypt in November 2018 for 10 Apache helicopters (Defense Daily, Nov. 27 2018). 
The UAE's deal for 4,569 MRAP vehicles will include a mix of base platforms, recovery variants and MRAP All-Terrain Vehicles. 
"The UAE intends to utilize the MRAP vehicles to increase force protection, to conduct humanitarian assistance operations, and to protect critical infrastructure. Additionally, these MRAPs will enhance the UAE's burden sharing capacity and defensive capabilities," DSCA officials wrote. 
The MRAP vehicles will be sourced from Army stocks as Excess Defense Articles, according to the DSCA.