The State Department has approved the $400 million sale of eight AH-6i light attack helicopters to Thailand, as well as an $86 million deal with Qatar for large aircraft countermeasure systems.
The Defense Security Cooperation Agency (DSCA) notified Congress of both foreign military sales on Tuesday.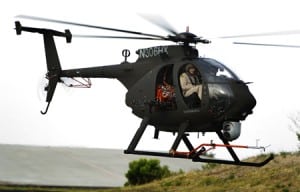 The deal for Boeing's [BA] AH-6i light attack helicopters is intended to replace Thailand's aging fleet of AH-IF Cobra aircraft.
"As part of a broader military modernization effort, these AH-6i helicopters will provide light attack reconnaissance for close air support to special operations forces, Stryker infantry soldiers and border guard units," DSCA officials wrote in a statement.
Thailand has also requested 50 Hellfire missiles, 200 Advance Precision Kill Weapon System rockets, 10 M134 mini-guns, 10 M260 rocket launchers and 10 M299 Longbow Hellfire launchers.
Qatar's deal for two AN/AAQ-24(V)N Large Aircraft Infrared Countermeasure Systems will be used for the country's 747-800 head-of-state aircraft.
"The proposed sale will improve Qatar's capability to deter regional threats. The self-protection suite will facilitate a more robust capability into areas of increased missile threats," officials wrote.
Northrop Grumman [NOC] is the prime contractor for the aircraft countermeasure system deal.