The Missile Defense Agency (MDA) awarded Raytheon [RTN] a $500 modification on Sept. 23 to continue research and development work on the Army Navy Transportable Radar Surveillance Control Model-2 (AN/TPY-2) and Sea-Based X-Band (SBX) radars.
This addition will raise the total value for the contracted work from over $461 million to $962 million. The work also covers continued product improvement, warfighter support, engineering services, Ballistic Missile Defense System test subject matter experts (SME) support, modeling and simulation SME support, and cybersecurity.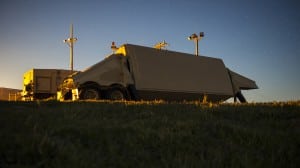 The original contract was awarded in November 2017. In October 2017 MDA awarded Raytheon a related $1.5 billion maximum value contract for AN/TPY-2 and SBX operations and sustainment support. At the time, then-MDA Director Air Force Lt. Gen. Sam Greaves told Defense Daily the support contract was not new work but only supporting X-band radar operations and sustainment activities previously performed by Raytheon (Defense Daily, Oct. 31, 2017).
The latest contract notice said no task orders under this new modification were issued at the time. Work will continue to occur in Woburn, Mass., with the same period of performance, lasting through October 2022 with a one-year extension option.
The AN/TPY-2 is built by Raytheon and is used by Terminal High Altitude Area Defense missile defense systems to detect, classify, and track ballistic missiles. It operates in the X-band and has two mode options: forward-based mode to detect missiles while they ascend and terminal mode to guide interceptors to a falling target.
Meanwhile, SBX is a modified semi-submersible oil-drilling platform that aims to provide discrimination capabilities to help track long-range ballistic missiles over the Pacific Ocean for the Ground-based Midcourse Defense (GMD) system. Raytheon built SBX under GMD prime contractor Boeing [BA].