As the Pentagon looks to push its artificial intelligence efforts toward rapid fielding of battlefield capabilities, the lead official for the department's new AI center will look to be more transparent about program objectives to improve engagement with non-traditional partners.
Lt. Gen. Jack Shanahan, director of the Joint Artificial Intelligence Center (JAIC), said Tuesday the Pentagon will be unable to achieve its AI goals without the help from the country's largest technology companies, citing lessons learned from his time leading the Project Maven project.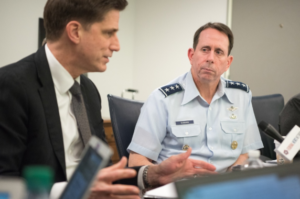 "It would be extremely hard to do without them. And when I say it's an ecosystem, it's everybody from a four-person start-up in a garage to the biggest companies in the world that do hyperscale commercial cloud and AI. We need all of them to be partners with us," Shanahan told attendees at an event hosted by The Atlantic. "We want to do business with companies that want to do business with us. But that does require a little bit more work on both sides to understand, in an environment where we have people that have never worked with a person in uniform before, what are we really trying to accomplish with our artificial intelligence capabilities."
Before standing up JAIC in the summer of 2018, Shanahan led the Project Maven effort, which looked to develop an AI tool to process data from full-motion video and cut down on the work of human intelligence analysts.
Google [GOOGL] was the prime contract for the program but decided against renewing its contract with the Pentagon after receiving pushback from employees about the company's tools being used for an AI drone imaging effort.
"It's somewhat surprising to me, and disappointing, that somewhere along the way the adjective 'controversial' was applied to Project Maven. It was never controversial to me. We were being very transparent about what we were trying to do, which was intelligence, surveillance and reconnaissance. No weapons involved, whatsoever," Shanahan said. "That company had some internal dynamics where some employees probably didn't understand what we were trying to do."
Shanahan said the Pentagon is focusing on being more transparent and clear about its AI objectives, which he noted is set on going after "machines performing at or above the level of human performance."
"Right now that's a fairly narrow use case, things like perception, language processing, expert systems. But over time we'll expand beyond perception to reasoning and beyond," Shanahan said.
JAIC is currently working through a series of National Mission Initiatives around areas such as disaster relief assistance tools and predictive maintenance algorithms for UH-60 Black Hawk helicopters, projects Shanahan called "low consequence missions." Shanahan added that as his office pushes toward battlefield capabilities, an increased assistance from industry will be required.
"As we learn more and more about how to actually field AI, we'll apply those lessons as we move, in the next year, to more use of artificial intelligence capabilities for warfighting operations," Shanahan said.
Shanahan added that AI applications for warfighting operations be used to make "better, faster decisions" and "reduce the risk of the really bad things that can happen on a battlefield."