The Pentagon's technology office has shifted its top modernization priority from hypersonics to microelectronics, an official said Tuesday, adding the department will look to greater advantage of commercial products in the area.
Mark Lewis, director of defense research and engineering for modernization, told attendees during an online AFCEA event the Pentagon will look to move away from its "trusted foundry" model for microelectronics to avoid falling behind industry's rapid pace of technology development.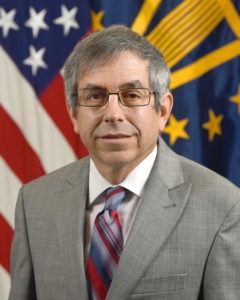 "We want the Department of Defense to have access to state-of-the-art capabilities which we do not have today, and that's because we, by and large, are not buying on the commercial curve," Lewis said.
Lewis cited microelectronics as "ubiquitous and so fundamental to everything we do," while noting that the Pentagon's current trusted suppliers program to ensure the security of new components has failed.
"It's failed from a business standpoint because the DoD doesn't buy a large percentage of the microelectronics market, and so the companies that have been handling the trusted foundries for us frankly had trouble making the business case. As a result, they haven't been investing and the chips and microelectronics components that we buy from those trusted foundries are, in some cases, two generations behind what's available in the commercial state-of-the-art," Lewis said.
The Pentagon's research and engineering office will look to shift toward a "zero trust" model for microelectronics that will allow components to be produced beyond those companies in the trusted suppliers program as long a series of stringent security measures are met.
"Our preferred approach is what we call 'zero trust,' enabling the capabilities' validation, verification and other technologies, including the way that we handle data, so that we can utilize components that are not coming from trusted foundries, that are coming from places where we haven't done the full certification but we know the capabilities that they are delivering are, in fact, trustworthy," Lewis said.
Lewis said placing microelectronics as the top priority signifies the progress made in the hypersonic space by the joint services.
In March, the Pentagon conducted a successful flight test of its hypersonic weapon glide body, a key milestone as the department looks to field a hypersonic weapon in the early-to-mid 2020s (Defense Daily, March 20).