The Marine Corps will procure new weapons to replace its M27 automatic rifles using the Army's Next-Generation Squad Weapon (NGSW) program, with initial deliveries to potentially begin by fiscal year 2025.
Marine Corps Systems Command (MCSC) said Tuesday the move is part of a large-scale infantry weapons modernization effort designed to fit in with the new plan to redesign the force by 2030.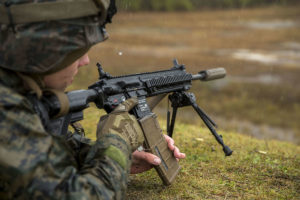 "This is the largest modernization of the infantry squad in the last 25 years," Lt. Col. Tim Hough, program manager for infantry weapons (PM IW), said in a statement.
Officials said the Marine Corps will partner with the Army on NGSW, which currently has three prototype competitors, to find the next primary individual weapon for its infantry units.
"The NGSW will provide a boost to the lethality of the individual soldier and Marine," MCSC officials wrote. "The weapon includes an optic/fire control system that will incorporate a disturbed reticle to improve the shooter's accuracy."
The Army has previously selected Textron Systems [TXT], General Dynamics [GD] and SIG Sauer for the NGSW prototype phase, with plans to eventually field new weapons in 2022 to begin replacing its own M4 rifles and M249 Squad Automatic Weapons (Defense Daily, Sept. 3 2019). 
The three companies each received eight-year prototype awards, with the first 27 months of the deal encompassing delivery of 53 new rifles, 43 automatic rifles and 850,000 rounds of ammunition as well as a series of evaluations and soldier touchpoints.
The Army has said a production contract for NGSW could include up to 250,000 weapons and 150 million rounds of 6.8mm ammunition.
The Marine Corps noted its infantry weapon modernization push includes the ongoing procurement of the Modular Handgun System (MHS), produced by Sig Sauer, to replace its pistols.
"The MHS improves on the precision and reliability of the legacy platforms, while also bringing with it new, more effective ammunition," Maj. Mike Brisker, weapons product manager for PM IW, said in a statement.
MHS is also an Army program, and the Marine Corps will begin fielding the new pistols this fiscal year. 
The Marine Corps has previously detailed its plan to redesign the force by 2030 by retooling toward naval expeditionary warfare and building a lighter force capable of meeting future challenges against peer competitors such as China.