The Marine Corps commandant said this week he must do a better job of convincing lawmakers on the importance of developing the force's long-range fires capability after Congress cut funding in its latest budget.
Gen. David Berger said the cut led the Marine Corps to fall behind on its research and development timeline for the Ground-Based Anti-Ship Missile (GBASM), which he called a critical component of the plan to redesign the force by 2030.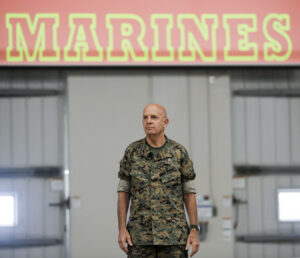 "We lost time in development and experimentation, due to lack of funding, for long range precision fires capabilities because of cuts. And that's on me. I have to do a better job with key members on the Hill to reassure them that this is the necessary direction for the future of the Marine Corps. In some cases, they believe we're moving too fast," Berger said during the National Defense Industrial Association's 2021 Virtual Expeditionary Warfare Conference.
Several lawmakers had pushed to restore $112.5 million in funding for GBASM in the FY '21 budget, stating the cuts could lead to a nine-month delay in development efforts, but were ultimately unsuccessful (Defense Daily, July 31 2020). 
"We have to have long-range precision fires that are mobile and expeditionary. For us, that's GBASM, which is a combination of a ground-based, anti-ship missile that's on the back of some kind of vehicle and it's also a cruise missile that could be a Maritime Strike Tomahawk or something like that. That allows us to control maritime terrain. We don't have that right now," Berger said.
Berger noted the push to secure long-range fires funding coincides with a tighter budget environment in the coming years. 
"That's my forecast, we're not going to get an increase," Berger said. "We must seek the affordable and plentiful at the expense of exquisite and few when it comes to the future of the amphibious portion of the fleet. Cost-effective platforms and manned-unmanned teaming will increase the capacity and, I think, expand our ability to distribute those forces."
Last fall, Berger said budget constraints won't stop efforts to shift toward a focus on naval expeditionary warfare but could slow down the rate of the change (Defense Daily, Sept. 25).