The Navy's last top acquisition official, James Geurts, has been designated to fill the service's second highest civilian role, the service said Thursday.
Geurts served as the Assistant Secretary for Research, Development and Acquisition from December 2017 until stepping down on Jan. 20 when the Biden administration was sworn in. Upon stepping down, he resumed serving as a Senior Executive Service (SES) employee with the Navy (Defense Daily, Jan. 15).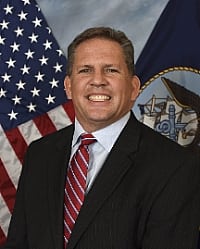 Now he will be "Performing the Duties of Under Secretary of the Navy."
"I've worked with Hondo for a number of years and know he will bring a wealth of insight and leadership derived from 34 years of DoD experience to this position," understanding of the needs, requirements and capabilities of our Navy and Marine Corps," Acting Secretary of the Navy Thomas Harker said in a statement upon the announcement.
"His stellar knowledge of acquisition efforts, experience driving positive change, and commitment to naval innovation will be a strong asset in this position, where he will continue to reinforce a clear understanding of the needs, requirements and capabilities of our Navy and Marine Corps," he added.
According to the Navy announcement, in this role he will serve as the deputy and principal assistant to Harker as well as being the chief operating officer and chief management officer of the Department of the Navy.
Moreover, Geurts will oversee intelligence activities, intelligence-related activities, special access programs, critical infrastructure, and sensitive activities within the department.
"Having supported the military, both in and out of uniform, for the majority of my life, I know that when we are empowered and focused on the mission we can accomplish amazing things. I look forward to continuing to work with a great team of professionals as we spearhead efforts in support of the finest Navy and Marine Corps in the world," Geurts said in a statement.
Previously, Geurts served as the acquisition executive for U.S. Special Operations Command and before being selected for the SES he started his career as an Air Force officer.
The Navy noted he has over 30 years of joint acquisition experience and has served in all levels of acquisition leadership positions, including acquisition executive, program executive officer, and program manager of major defense acquisition programs.