The long-term budget impacts of the pandemic may cause a delay in the Marine Corps' plans to redesign the force by 2030, the service's top official said Thursday.
Gen. David Berger, the Marine Corps commandant, told attendees during a virtual Defense One
discussion that likely budget constraints in the near future won't stop efforts to shift toward a focus on naval expeditionary warfare, but could slow down the rate of the change.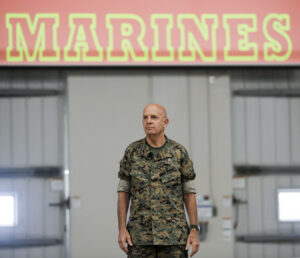 "[The pandemic] could affect the rate at which we can transform and move the Marine Corps into where it's got to be a decade from now. Which would be okay, if we weren't pressed by an adversary or two that are moving pretty quickly," Berger said.
Berger's outlook on the pandemic follows comments earlier this week that the Marine Corps does not plan to ask Congress for budget increases in the coming years and will look to divest from both legacy systems and recently fielded capabilities to invest in modernization (Defense Daily, Sept. 23).
"I think my role then is to convey to the senior civilian leaders, if you affect our budget in a way that slows down the redesign of the Marine Corps, the posturing of what we need to be for 2030, there is a risk," Berger said on Thursday/
The Marine Corps has previously said it's found $12 billion it could to shift from low priorities toward its redesign effort (Defense Daily, March 27)
The force redesign plan includes eliminating tank battalions, cutting the number of artillery cannon batteries and amphibious vehicle companies, and reducing all tiltrotor, attack and heavy lift squadrons.
Future investments will include a 300 percent increase in rocket artillery capacity and anti-ship missiles, as well as doubling the number of unmanned air and ground systems.