The Senate will vote on whether to confirm U.S. Strategic Command Commander Air Force Gen. John Hyten to become the next vice chairman of the Joint Chiefs of Staff, the chamber's senior Republican leader said Sept. 24.
Senate Majority Leader Mitch McConnell (R-Ky.) affirmed in a floor speech Tuesday that by the end of the week, "we'll have confirmed our next vice chairman of the Joint Chiefs" in addition to other high-level administration positions.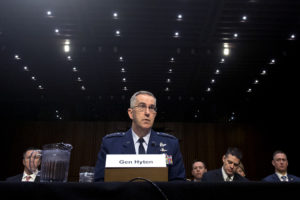 Hyten's nomination was advanced by the Senate Armed Services Committee (SASC) this July by a vote of 20-7, with committee members voting against him, expressing concern over allegations of sexual assault made against him, as well as alarm over how he handled potential toxic leaders in his chain of command (Defense Daily, July 31).
Hyten has publicly denied the charges set against him in April by Army Col. Kathryn Spletstoser, a former STRATCOM official. Six Democratic SASC members and Republican member Sen. Joni Ernst (Iowa) all voted against him sending him out of committee.
Sen. Mazie Hirono (D-Hawaii), who was among the "no" votes in July, told Defense Daily Tuesday that she had requested additional information on issues unrelated to Spletsoser's allegation that she had not received.
"So I will probably be inclined to vote no" on his full confirmation, she said. Hirono serves as the ranking member of the SASC Seapower Subcommittee.
Ernst, who chairs the SASC Emerging Threats and Capabilities Subcommittee, had previously said she voted "no" to send Hyten's nomination out of committee out of concerns for his inability to address toxic leadership among his ranks.
McConnell did not mention Tuesday whether votes will be conducted this week on two other major Pentagon nominees – Barbara Barrett to become the next Air Force secretary and Army Undersecretary Ryan McCarthy to become the next Army secretary.