The Senate confirmed Air Force Gen. John Hyten to become the next Vice Chairman of the Joint Chiefs of Staff on Sept. 26, by a vote of 75-22.
The vote to promote the current U.S. Strategic Command commander comes after several months of drawn-out debate over allegations that Hyten had sexually assaulted one of his subordinates, Army Col. Kathryn Spletstoser.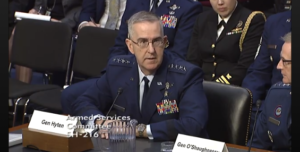 Hyten denied the accusations of sexual assault and painted Spletstoser as a toxic officer. His confirmation vote was expected to be somewhat contentious even as he was expected to be eventually confirmed. His predecessor, Air Force Gen. Paul Selva, was confirmed via voice vote for a second two-year term in 2017. Selva retired July 31.
Sen. Jim Inhofe (R-Okla.), the chairman of the Senate Armed Services Committee (SASC), praised Hyten's confirmation vote in a statement Thursday.
"Throughout his nearly 40 years of military service, Gen. Hyten has proven himself to be an accomplished, strategic leader who has served with integrity and honor, and who understands the threats our nation faces and the tools we have to meet and defeat those threats. We need this breadth and depth of knowledge in the Vice Chairman of the Joint Chiefs of Staff," he said.
"As with all nominees that come before the Senate, we have done due diligence to ensure that not only is General Hyten capable and qualified, but the best candidate for the job," Inhofe added. "His path to confirmation was a fair, thorough and bipartisan process, and the vote today reinforces that."
Air Force Chief of Staff Gen. David Goldfein praised the confirmation vote in a statement Thursday. "Today's Senate confirmation of Gen John Hyten to be the Vice Chairman of @thejointstaff is good news for our military & good news for our nation," he said in a tweet. "John Hyten is the leader, strategist, & above all an individual w/the character & values to lead our men & women in uniform well."
Senators voting no included one lone Republican – Sen. Joni Ernst (R-Iowa), a retired Army National Guard lieutenant colonel who chairs the SASC Emerging Threats and Capabilities subcommittee. She told reporters Thursday that she voted against Hyten due to concerns about his leadership ability – she said in July when she voted against sending his nomination out of committee that she was concerned over his apparent inability to identify toxic leaders such as Spletstoser in his ranks.
The 21 Democrats who voted against Hyten included SASC members Sens. Richard Blumenthal (Conn.); Tammy Duckworth (Ill.), also a retired Army National Guard lieutenant colonel; Kirsten Gillibrand (N.Y.); Mazie Hirono (Hawaii); and Gary Peters (Mich.).
Three 2020 Democratic presidential candidates – Sens. Cory Booker (D-N.J.), Elizabeth Warren (D-Mass.) and Bernie Sanders (I-Vt.) – did not vote.
The Senate approved by voice vote Thursday Army Undersecretary Ryan McCarthy to become the next Army Secretary. McCarthy had been serving as acting service secretary since his predecessor Mark Esper became secretary of defense in July.
The upper chamber is not expecting any further votes until it returns from its fall recess Oct. 15, but before adjourning, Senate Majority Leader Mitch McConnell (R-Ky.) filed cloture on the nomination for Barbara Barrett to become the next secretary of the Air Force.
The motion to invoke cloture was intended to break a hold on Barrett's nomination placed by SASC member Blumenthal. He told reporters this week that he had requested additional information from her and the Pentagon regarding service personnel staying at properties owned by President Trump. Politico first reported in September that the House Oversight Committee was investigating incidents of the services using Trump properties for refueling or rest on transglobal flights.
"I want to know what the total amounts of money are over a period of years, and I asked her for her commitment that she will seek a policy that bars Department of Defense personnel from staying at Trump-branded properties," Blumenthal said Thursday, noting that the Pentagon has committed to providing those answers and been "cooperative."
McConnell's move to file cloture on Barrett's nomination tees up a confirmation vote when lawmakers return to Capitol Hill in October.