The Army will work over the next year to refine a new joint concept as the next step in its focus on multi-domain operations to prepare for a future threats from peer competitors such as Russia and China, the director of the service's future concepts office said Tuesday.
Lt. Gen. Eric Wesley, head of the Futures and Concepts Center, told attendees at a Brookings Institution
event the next iteration to follow the Army's Multi-Domains Operations 1.5 concept won't be a "2.0" document, but rather a joint concept to be informed by an ongoing series of wargames and experiments.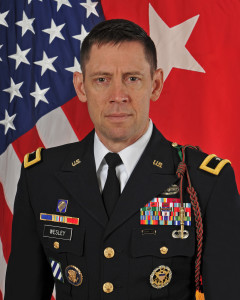 "We don't want to presuppose what the other services will do. What we're saying in our document is this is what we think the Army has to do, leaving open-ended the plugs for the other services," Wesley said. "It's the next level that we have to get to in order to have a common view across the services, and right now we're in the midst of that with the other services. You'll see that as a priority work, I think, in the next year or so."
The Army initially published a Multi-Domain Battle concept with the Air Force two years ago, with plans to eventually release a "2.0" version in late 2019, according to Wesley.
Then, last December, the Army released MDO Concept 1.5, which detailed how officials were driving strategic formations for a potential future fight, while urging a collective effort across the services to prepare for competition at levels "below armed conflict" (Defense Daily, Dec. 6 2018).
"In the interim, what the Army decided was that we don't want to wait to do that. Inside the Army, because we were so aggressively pursuing modernization, we needed that azimuth out there," Wesley said.
For the next iteration, Wesley said the Army is set to work on a new joint concept that builds on MDO 1.5 while bringing in the Air Force and Navy to inform a holistic document.
"As we speak, the services are coming together in order to bring their concepts together for an optimized joint concept," Wesley told reporters following Tuesday's event.
Wesley said the Army has already held several exercises with the other services with plans for more in the near future, including a wargame in September and October that was directed by Pentagon leadership.
"We're using a European theater to run multiple operations against [the concept] to see where we can get some efficiencies and optimization. The other thing we did this past year was put it over the top of the INDOPACOM theater in our capstone wargame," Wesley said. "In both scenarios, what we're seeing is gains. There has been no setback and no flatlining."