The Air Force is planning to expand the number of aircraft series integrated with artificial intelligence-powered predictive maintenance tools from four to 16 by the end of the year, a senior official said Wednesday.
Lt. Gen. Robert McMurry, commander of the Air Force Life Cycle Management Center, told attendees during an online C4ISRNET conference, the push for broader AI integration beyond maintenance tools will require greater confidence in testing and security of new algorithms and proven cost savings.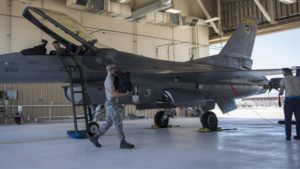 "That'll be a huge step forward. That's our goal, 12 more of them this year," McMurry said. "The AI algorithms actually help us to bring in the data and help us to clean the data. Natural language processing in particular is very good at helping us take mass quantities of legacy platform data and bring it in to where it's addressable in a good mechanized or machine analysis way."
McMurry cited a specific example of using AI for a robotic paint removal system on select aircraft that he said manually would require hundreds of hours and is now automated.
"We use it for robotics. It's built into our path planning on robotic paint removal systems. It's built into the sensor mechanisms on the depth of removal of coatings. Those are two really promising areas. If we didn't automate the way that this works, which has embedded AI, we could never get there," McMurry said. "Think about taking an F-16 and putting it in the hangar, and then plan the path for robotic systems to remove paint from that F-16. That's done through automated software that uses AI elements. If we did not have that, you can imagine now the manual time required to start planning the path for that robotic system."
While the Air Force has shaved considerable time by implementing AI-driven automated maintenance processes, McMurry said the service must also prove the technology can produce cost savings.
"Finding those things that actually move the needle, we're not there yet. We're at that innovation stage where we see the promise, we want more of it and we've got to bring it on," McMurry said.
McMurry acknowledged adopting AI on a broader scale will require ensuring testing and security integrity of new algorithms moving forward.  
"How do I know that what I'm doing here won't jeopardize the security of our network and will do what it's intended to do? Those are the big things," McMurry said. "Industry will lead us on this. What we want to be is as fast a follower as we can be. Typically, the inhibitors are our ability to adopt open source software, or dealing with data rights or testing and security confidence. Those we'll take any help we can get there."