After a delay, the White House on Feb. 28 officially announced President Trump intends to nominate Kenneth Braithwaite, the current Ambassador to Norway, as the next Secretary of the Navy.
Trump first tweeted his plans to nominate Braithwaite in November to replace the last Navy Secretary, Richard Spencer. At the time, Secretary of Defense Esper said he recommended Braithwaite to the president (Defense Daily, Nov. 25, 2019).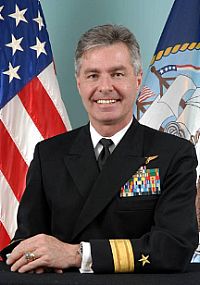 However, the official nomination was not formally announced by the White House until Friday.
Braithwaite is a 27-year veteran of the Navy and Navy Reserve. He began his career as an aviator before switching to public affairs, eventually rising to rear admiral in the reserves and serving as the Navy's Vice Chief of Information.
Before being appointed ambassador in 2017, Braithwaite served as group senior vice president for Vizient, executive director of the Delaware Valley Healthcare Council, vice president of government affairs for Ascension Health, a councilman in Pennsylvania, and state director to former Sen. Arlen Specter (Pa.).
Under Secretary of the Navy Thomas Modly has been serving as Acting Secretary since Spencer was asked to resign over the handling of Navy SEAL Eddie Gallagher's legal case.