The Navy accepted delivery of the future USS Tripoli (LHA-7), an America-class amphibious assault ship, from shipbuilder Huntington Ingalls Industries' Ingalls Shipbuilding [HII] on Feb. 28.
Known as a "large deck amphib," LHA-7 is 844 feet long, displaces about 44,971 long tons, and can operate at over 20 knots. The Navy noted it incorporates a fuel-efficient gas turbine propulsion plant, zonal electrical distribution, and electric auxiliary systems first installed on the USS Makin Island (LHD-8).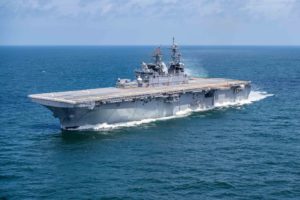 HII built the vessel at its shipyard in Pascagoula, Miss. It is the Navy's only builder of large-deck amphibs.
The LHAs transport elements of a Marine expeditionary unit or Marine expeditionary brigade with a combination of aircraft and landing craft. The Tripoli will also feature an enlarged hangar deck, greater maintenance capability, and JP-5 fuel capacity for Marine Corps aviation. Once Tripoli deploys, it will be the flagship of an Amphibious Ready Group.
"On behalf of the entire team, I am grateful to take delivery of this versatile warfighting asset. The Navy and industry team has worked persistently to deliver this platform, ready to integrate the Marine Corps air combat element, including the Joint Strike Fighter, to our combatant commanders," Tom Rivers, amphibious warfare program manager for Program Executive Office Ships, said in a statement.
The next step for LHA-7 is moving crew aboard and preparing for commissioning and sailaway later in 2020. The ship's future homeport will be San Diego.
LHA-7 previously finished acceptance trials last October after the ship was underway for three days at sea while the Navy's Board of Inspection and Survey performed an evaluation of all the major systems on the ship (Defense Daily, Oct. 31, 2019).
The Tripoli was previously delayed due to technical design issues making sure ship systems would work over the total life of the ship.
HII's Pascagoula shipyard is also working on the future Bougainville (LHA-8); guided missile destroyers Delbert D. Black (DDG-119), Frank E. Peterson (DDG-121), Lenah H. Sutcliffe Higbee (DDG-123), Jack H. Lucas (DDG-125); and amphibious transport dock ships, Fort Lauderdale (LPD-28) and Richard M. McCool Jr. (LPD-29).