The Navy accepted delivery of the second Textron Systems [TXT] Ship-to-Shore Connector (SSC) Landing Craft Air Cushion (LCAC)-101 on Aug. 27, service said Aug. 28.
The delivery came after LCAC-101 previously completed acceptance trials in June (Defense Daily, June 16).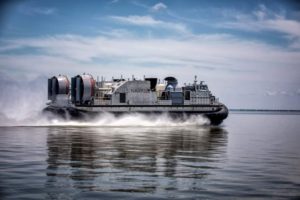 LCAC-101 is the first operational SSC unit. The SSC program plans to replace the Navy's current fleet of LCACs reaching the end of their service lives. The New LCAC-100 class vessels are designed to operate for 30 years as they transport 60 to 70 tons of surface force weapons systems, equipment, cargo, and personnel to land at over-the-horizon distances from amphibious ships and mobile landing platforms.
SSC's feature improved engines, fly-by-wire controls, higher payloads, a smaller crew, and simpler maintenance. The Navy plans to procure up to 72 total vessels.
"Our next generation surface connectors are going to significantly enhance the Navy and Marine Corps team's capability to execute missions – from humanitarian assistance to amphibious assault," Capt. Cedric McNeal, amphibious warfare program manager, Program Executive Office Ships, said in a statement upon the acceptance.
"We have 12 additional craft in production with another 10 on contract, positioning us to steadily deliver increased capability to our fleet over the coming years," McNeal added.
Textron builds the SSCs at their facility in Slidell, La. The Navy said they are built with similar dimensions, configurations, and clearances as legacy LCACs to ensure compatibility with existing amphibious ships.
The company delivered the first SSC in February, which the Navy will use as a test and training craft (Defense Daily, March 10).
The SSC program has not gone without challenges and delays. The fiscal year 2020 Navy budget request cut the total five year procurement plan from 32 to 21 due to contractual and delivery delays (Defense Daily, March 15, 2019).
An annual June Government Accountability Office (GAO) acquisition assessment explained the SSC technical challenges include design problems in the vessels gearbox, rudder and electric system issues (Defense Daily, June  16).
The report noted after several gearbox redesigns due to problems the gearbox subcontractor is not interested in the follow-on contract due to ongoing problems, which is expected to cause additional production delays.
Previously, the Navy awarded Textron a $386 million modification in April to build the next 15 SSCs, for LCACS 109-123, covering fiscal years 2017-2020 procurement (Defense Daily, April 17).
The initial design and construction contract called for nine SSCs before the modification. Textron is now in production on 12 other SSCs.