Textron Systems [TXT] on Tuesday said it delivered the first Ship-to-Shore Connector (SSC) next-generation air cushion vehicle, LCAC-100, in February.
The company said before delivery "Craft 100 underwent integrated testing to demonstrate the capability of its fly-by-wire steering, electrical and propulsion systems and completed its Acceptance Trials in December 2019."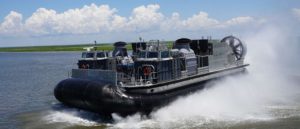 The SSCs are meant to replace the Navy's aging fleet of Landing Craft Air Cushion (LCACs) that are reaching the end of their service lives. The new craft are designed to serve for 30 years, landing surface force weapon systems, equipment, cargo, and personnel at over-the-horizon distances from amphibious ships and mobile landing platforms.
The LCAC-100 vessels feature improved engines, fly-by-wire controls, higher payloads, a lower crew, and simpler maintenance compared to the older LCACs. The service plans to eventually procure 72 operational vessels and one test and training craft.
Textron said the Navy will use LCAC-100 as the test and training craft while 13 other SSCs are in various stages of production. The company noted builder's trials for LCAC-101 are scheduled for the first quarter of this year while acceptance trials are planned for the spring.
After various delays, in January a Navy official said the first two to three SSCs would start delivering this year even though several technical and production issues remain.
"There are
still a handful of technical challenges as we seek to get an operational craft out the fleet. LCAC-100 is the craft we'll be working through those on," Program Executive Officer Ships Amphibious, Auxiliary and Sealift Office Executive Director Matt Sermon said at the Surface Navy Association symposium in January (Defense Daily, Jan. 23).
Last year, the Navy's FY 2020 budget request cut the SSC acquisition numbers over the previous Future Years Defense Program from 32 to 21 including zero in the FY '20 budget. While the final defense appropriations bill added one SSC, the Navy budget documents noted cuts were due to contractual and delivery delays (Defense Daily, March 15, 2019).
In January, Sermon said there were previously a "large handful of not-atypical first of class kind of integration issues as we transition to some new engineering dynamics" on the SSC and now a backlog from previous delays.
"I think there's plenty of production test work to still be done at Textron as we head into the future acquisition plan," Sermon said.
Textron builds the SSCs at its facility in New Orleans. They are built with similar configurations, dimensions, and clearances of existing LCACs to ensure compatibility with existing well deck-equipped amphibious ships, Expeditionary Transfer Docks, and Expeditionary Sea Bases, the company said.