Lockheed Martin [LMT] on Tuesday conducted a second successful flight test of its offering for the Army's Precision Strike Missile (PrSM) program, with the company on track for a third demonstration in May.
Gaylia Campbell, Lockheed Martin's vice president of precision fires and combat maneuver systems, also told
Defense Daily the company received a long-lead items deal from the Army, following its first successful PrSM test in December, to cover additional flight tests planned for 2021.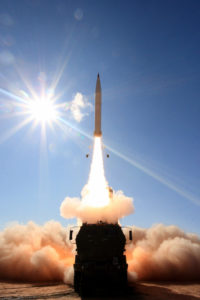 "Today's flight test further demonstrated the reliability, precision and critical capabilities Lockheed Martin is building into the PrSM," Campbell said in a statement following the test. "The missile performed exactly as expected and successfully engaged the target with pinpoint accuracy."
Tuesday's flight test was conducted at White Sands Missile Range in New Mexico and included firing the missile from the company's HIMARS launcher and reaching a range of around 180 kilometers.
"This second consecutive successful flight test of Lockheed Martin's PrSM validates our missile technology and confidence that Lockheed Martin is uniquely positioned to deliver this important, cost-effective capability to meet our U.S. Army customer's priorities," Campbell said.
Lockheed Martin is competing with Raytheon [RTN] for PrSM, the Army's program to replace its legacy ATACMS missiles, with plans to award a production contract in 2021 and begin initial fielding in 2023.
Raytheon has yet to demonstrate its offering for the Army following a series of delays due to technical problems, with the Army's top acquisition official telling lawmakers last week the service is currently negotiating with the company to keep it involved in the program (Defense Daily, March 5).
PrSM's current maximum range requirement is 499 kilometers, and the Army previously told Defense Daily subsequent tests will continue increasing toward the maximum range.