Lockheed Martin [LMT] has delivered the first 10 Long Range Discrimination Radar (LRDR) antenna panels to the Missile Defense Agency's facility in Clear, Alaska, the company said this week.
The LRDR system will consist of two radar antenna arrays, each made of 10 panels. The company expects to fully deliver the radar system to MDA later this year. It will be deployed in Clear Air Force Station.
Lockheed Martin spokeswoman Rae Fulkerson told
Defense Daily eight of the panels have already been installed while the other two are on track to be installed by the end of March. The company performs the installation itself in Alaska.
Each panel is about 27 feet tall and each array will be about four stories high and wide. The company noted temporary structures have been assembled in front of the final radar facility "to ensure the panels are installed on schedule, regardless of weather conditions."
Installation and integration of the LRDR system began in 2019 and once completed will transition to a testing period. Fulkerson told Defense Daily the last 10 panels are scheduled to be delivered incrementally from now through June. The company expects all panels and overall equipment to be delivered by the third quarter of 2020 and it will deliver the LRDR system by the end of the year.
Lockheed Martin said it has verified over 66 percent of program technical requirements at its Solid State Radar Integration Site (SSRIS) in Moorestown, N.J. The SSRIS is a small-scale version of the LRDR and is being used for additional solid state radar testing work.
Fulkerson said 85 percent of program technical requirements will be verified by the third quarter of 2020 and the remainder will be verified in Clear, Alaska, as is the company's plan.
"We are confident in our product because of the extensive testing that we have been able to perform in the SSRIS over the past few years with production hardware and tactical software. We have successfully reduced a large amount of risk to ensure fielding of this critical capability on schedule in 2020," Chandra Marshall, director of Lockheed Martin's Missile Defense and Space Surveillance Radar programs, said in a statement.
Last August, the first LRDR panel was delivered to the Clear deployment site. At the time the company also said it finished topping off construction on the Clear facility's framework shelter to house the radar (Defense Daily, August. 6, 2019).
At the time, Lockheed Martin said it expected the last panel to be delivered and installed in the first quarter of 2020, testing to occur throughout 2020, and radar work to be finished at the end of 2020. Then, MDA will take over the system and work toward the initial operating capability.
The company noted in 2018 the LRDR systems achieved Technical Readiness Level 7 using a modular "subarray" radar building block. Also, in 2018, the company completed a closed loop satellite track with tactical hardware and software, setting up full-rate production leading to this level of production and delivery (Defense Daily, Oct. 16, 2018).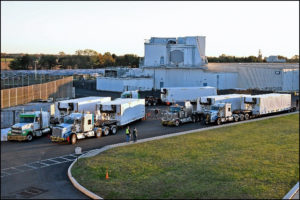 LRDR is an S-Band radar that uses gallium nitride (GaN) components. MDA is acquiring it to help distinguish between ballistic missile threats and other objects or decoys at longer range distances.
MDA first awarded the Lockheed Martin a nine-year $784 million contract to develop and build the LRDR in 2015 (Defense Daily, Oct. 21, 2015).
Japan chose LRDR for its two future Aegis Ashore facilities, rather than use Raytheon's [RTN] SPY-6 Air and Missile Defense Radar, which will be fitted on the new Arleigh Burke-class Flight III destroyers (Defense Daily, July 30, 2018).
Lockheed Martin noted beyond the MDA LRDR and Japan's Aegis Ashore sites it is also used scaled down version of the LRDR technology for the Canadian Surface Combatant (CSC) and Spain's F-110 frigate program.
Fulkerson noted that "by leveraging LRDR technology we have reduced our non-recurring costs, leveraged an established supply chain and hot production line across Aegis Ashore Japan, CSC and F-110, which significantly reduces the timeline and risk to fielding."
Relatedly, last week MDA Director Vice Adm. Jon Hill noted the LRDR progress and that the system will start up over this next year.
"It's coming along very well in a place that is very hard to build. We get about eight months out of the year to actually do our construction but we're doing it very well with that Long Range Discrimination Radar," Hill said at the McAleese defense programs conference on March 4.