The Missile Defense Agency (MDA) plans to begin initial fielding of a new Alaska-based missile defense radar in December 2021, a delay of three more months over previous delays due to the COVID-19 pandemic.
Construction and integration activities of the Long Range Discrimination Radar (LRDR) ceased in March 2020 due to the pandemic, pushing back the system's initial fielding and transfer to the Air Force into late fiscal year 2023, a Government Accountability Office (GAO) report said last year (
Defense Daily, Aug. 10, 2020).
MDA originally planned to field the radar system in fiscal year 2021 and then transfer it to the Air Force in FY '22.
The LRDR is an S-Band radar MDA procured to add sensor capabilities for the Ground-based Midcourse Defense System that seeks to defend the U.S. from ballistic missiles. The new radar aims to add capabilities for improved tracking and discrimination of incoming vehicles and decoys or non-lethal objects. The prime contractor is Lockheed Martin [LMT].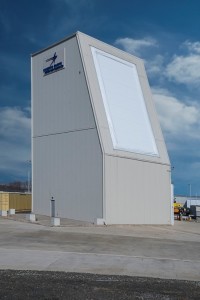 Also in August 2020, MDA director Vice Adm. Jon Hill said the work had restarted by then and arrays for the system were being delivered, with the agency planning on a full power test later that year.
However, last March, head of U.S. Northern Command, Air Force Gen. Glen VanHerck said a power up was occurring in April and the Defense Department aimed to reach an initial operational capability (IOC) in September (Defense Daily, March 16).
VanHerck said he told the MDA his "number one requirement" was to not have "any slips in the delivery" of LRDR.
On Tuesday, MDA spokesman Ryan Keith told Defense Daily that construction of the LRDR facilities is complete and the radar installation will be completed in November.
"An Initial Fielding ceremony to commemorate the completion of facilities construction and radar installation, as well as the transition to radar testing, training, and operations, is planned for December 2021," Keith said.
He added that the change in the initial fielding schedule was a result of COVID-19 pandemic impacts.
However, he noted that transition and transfer of the LRDR to the U.S. Space Force is still planned for fiscal year 2023.
The GAO report that disclosed the pandemic-led delays also criticized MDA's test plan for the radar. The plan calls for two ground tests before only one one flight test, originally scheduled for the third quarter of FY '21. The GAO said this testing regime increased the likelihood the models will not be accredited when testing is complete, so performance analysis and most of the model validation and accreditation will have to be made concurrently.
GAO warned that the plan increases the risk of discovering issues with LRDR late in development, which could cause performance reductions or additional delivery delays.
The final LRDR system consists of two arrays made of 10 panels each. Each panel is 27 feet tall and each array is about four stories tall and wide.