There is promise in Navy unmanned systems from capabilities to cost savings, but the Senate Armed Services Committee is wary of putting the "cart ahead of the horse" in various technologies, professional staff member Jason Potter said Wednesday.
Speaking during a Navy League webinar on Oct. 27, Potter noted the Senate Appropriations Committee's draft fiscal year 2022 defense spending bill recommended cutting requested funding for the Orca Extra large Unmanned Undersea Vehicles (XLUUVs) Large Displacement Unmanned Undersea Vehicle (LDUUV) program.
"There's a lot of potential in unmanned systems and the things they can do and the cost savings and all that, there's a case there. I think the struggle here is kind of a devil's in the details," Potter said.
Event moderator Jerry Hendrix, vice president of the Telemus Group, noted that the speakers were "appearing in a personal capacity and their responses do not necessarily reflect the views of their current or former employers."
Potter added both the Orca and LDUUV programs have had "challenges realizing the thing that we want them to be. And Orca started out as an urgent need in the 2016 timeframe and it hasn't been able to do the things, to date, that we need it to do. And so we all hope it can."
The committee's draft bill documents, released earlier this month, said it was concerned and recommended against the Navy receiving additional funds to continue building and testing five XLUUVs for additional requirements like increased payload capacity and modules "when the baseline program is performing poorly" (Defense Daily, Oct. 19).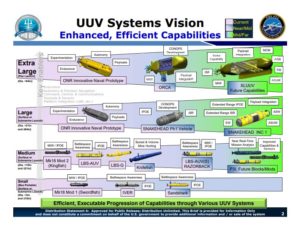 The bill report also mentioned schedule delays of at least two fiscal quarters plus a previous 18-month delay from the FY '21 budget request while the Navy said the program will need to be restructured. Therefore, the committee recommended reducing funding for the program by $16 million. The bill also directed the Comptroller General to review the Navy's adherence to acquisition best practices with XLUUV since the committee questions the service's analytical and engineering rigor conducted before program initiation.
The bill also recommended against funding Phase 2 of the LDUUV program with its $29 million request, given the Navy terminated a system intended to launch it from Virginia-class submarines, delays in Phase 2 contract award form FY '21 to FY '22 and how the Navy is "reconsidering the LDUUV program."
Potter said they need to break some of these complex unmanned systems down into smaller pieces to better understand them.
"From the case of the USVs, unmanned surface vessels, we've mandated that the propulsion and electrical systems are tested first in a ship-representative form and if they can meet them, the Navy's minimum endurance requirements, on land before we try to take them to sea."
He was referring to provisions in the fiscal year 2021 defense authorization bill that requires the Navy to qualify the main engines and generators for certain unmanned surface vessels before moving to procurement, focusing on land-based testing and sub-system prototyping (Defense Daily, June 11, 2020).
Potter said this is useful "because if you can't do it on the test bench [in a] controlled environment, then you're going to have a harder time at sea and then also in an instrumented test environment you can fix problems faster and just not get kind of the cart ahead of the horse."
He noted the committee is not trying to "handcuff technology that are ready to go" but they also do not want to waste time and money suboptimally by not using steps that have served the Navy well in the past for technology development.
Moreover, while "thought leaders" across the current administration, previous administrations, Navy, Congress and outside government are starting to coalesce around the need for manned and unmanned systems working together, they disagree on how long it takes to develop these systems in a "sustainable and responsible way," Jen Stewart, senior vice president at WestExec Advisors, said during the webinar.
Stewart most recently served as the chief of staff to former Secretary of Defense Mark Esper and previously worked as staff director at the House Armed Services Committee under former Rep. Mac Thornberry (R-Texas).
"I don't think that we have, across that whole ecosystem of stakeholders…White House level, [Office of the Secretary of Defense]-level, service-level, congressional level, industry-level, I don't think we have consensus on those timelines yet.