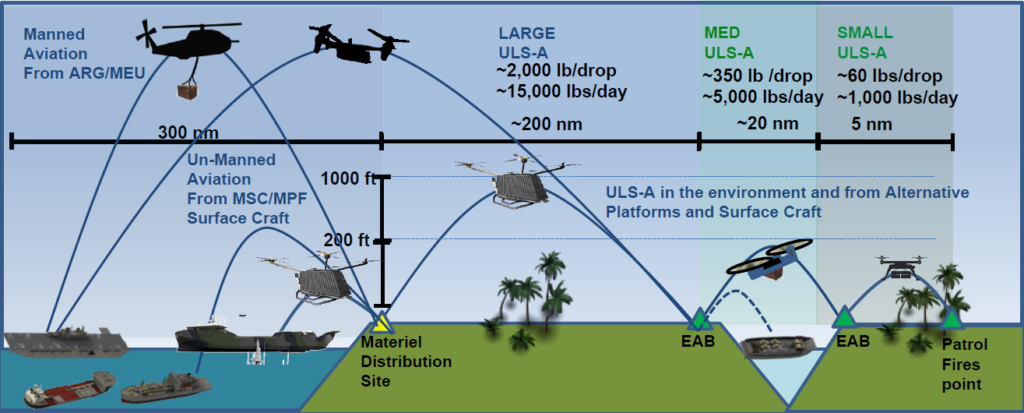 The Pentagon's interest in electric vertical takeoff and landing (eVTOL) aircraft continues to grow, with the Marine Corps' Warfighting Lab now partnering with the Air Force's Agility Prime program to explore unmanned aerial logistics solutions.
For years, the service has worked with industry to develop greater unmanned and autonomous logistics solutions, both on the ground and in the air, to reduce risk to manned vehicles and free up assets for combat missions.
As commercial investment in eVTOL aircraft has grown dramatically, interest inside the Marine Corps has followed, explained Carmine Borrelli, deputy head of the logistics innovation office at the Warfighting Lab.
"We wanted to get involved [with eVTOL] a few years ago from an innovation office perspective, but it was something that was a little too advanced to get people to believe in," said Borrelli. "We're now pursuing this from a Marine Corps Warfighting Lab perspective, which is important because it puts this in the S&T range of things where we can pursue it more aggressively."
At a recent conference hosted by the Vertical Flight Society in San Jose, Calif., Borrelli laid out three categories of unmanned logistics-air (ULS-A) capabilities the Marine Corps are seeking to procure — small, medium, and large, according to payload — along with timelines for entry into service.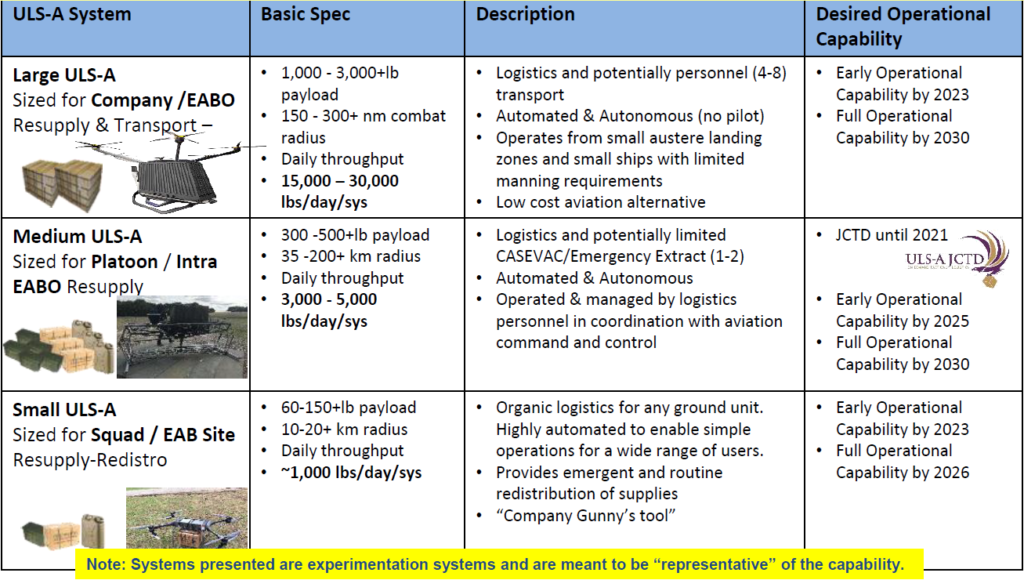 Borrelli is targeting for small ULS-A platforms to enter service in a limited capacity in 2023, with medium platforms by 2025 and larger ones by 2030. He expects the Marine Corps to procure "hundreds and thousands" of small- and medium-sized ULS-A platforms, with the aircraft put into use in a tactical environment as well as bases and stations around the world.
"Every base and station that delivers something is interested in trying to figure out how to use these," Borrelli said. "Once we prove the platforms out, we think the volumes will increase not only for what we're focused on right now — the tactical distribution, the battle space — but throughout each base and station."
Through development and prototyping contracts and fly-off events, the service has seen significant capabilities in the small and medium categories, moving 60-150 lbs and 300-500 lbs respectively, with medium options trending toward hybrid-electric aircraft, Borrelli told reporters — and for both categories, he has seen platforms "at equal weight or less" than the payload being moved.
Though Borrelli said he has yet to see eVTOL aircraft in the 3-6,000 lb payload category, he said the Marine Corps is very interested in the platforms under development for commercial air taxi use — typically with 1-1,500 lb payloads — and has adjusted its requirements to take advantage of progress in that area of capability.
"We are seriously looking at that range because of [commercial developments]," said Borrelli. "We look to ride the coattails of the industry … But we also want to be very conscious and get our requirement out there in the 2-3,000 lbs and beyond, up to 6,000 lbs [range], because we still have things we need to move, and it would be important to see what the market could bring without making these things very expensive aviation platforms."
Various Marine Corps efforts related to ULS-A, including exploring greater autonomy systems for the Kaman[KAMNA] K-MAX helicopter, total more than $100 million, Borrelli said. The service is partnered with the Army's unmanned aerial logistics procurement efforts on medium-sized platforms and working with the Air Force's Agility Prime program for larger aircraft.
Agility Prime recently released a solicitation for eVTOL aircraft under development that will be capable of transporting 3-8 people over 100 miles at speeds exceeding 100 mph, which the Air Force hopes to analyze, test-fly and eventually provide non-civil certification for.
In the coming months, the program may release a similar solicitation searching for cargo aircraft on the larger end of ULS-A's range, Borrelli said.