The Army is negotiating with one of the two competitors in its Precision Strike Missile Program (PrSM) to keep the company involved in the program after it experienced "technical problems" with its offering, a top acquisition official said Thursday.
"We have two candidates. Of the two candidates, one missile was successful firing and the other missile had some technical problems. Not insurmountable," Bruce Jette, the service's acquisition executive, told lawmakers during a House Armed Services tactical air and land forces subcommittee hearing.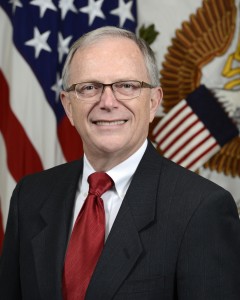 Both Lockheed Martin [LMT] and Raytheon [RTN] are competing for PrSM, the Army's program to replace its ATACMS missiles, with plans to award a production contract in 2021 and begin initial fielding in 2023.
Lockheed Martin said in December it had successfully completed the flight test for its PrSM offering, which included reaching a range of 240 kilometers during a demonstration at White Sands Missile Range in New Mexico (Defense Daily, Dec. 11). 
While Jette did not mention Raytheon by name during his response on PrSM, the Long Range Precision Fires cross functional team has told Defense Daily the company did have a first flight planned for earlier this year.
"We are trying to negotiate out a fair and equitable deal within our authorities to see if we can keep the second competitor involved," Jette said.
Jette noted the Army is planning its next round of PrSM test fires for later this month or early in April, and would seek to finish negotiating a deal with the second competitor beforehand.
"We definitely know one candidate's ready to go to that firing. The other candidate has some make-up to do. We are currently negotiating with them as to how to resolve that, because we have to keep a level playing field between two competitors. I can't give someone else more money than I gave the other one. And I'm getting some place with the one competitor and the other one has to make some adjustments," Jette said.