Lockheed Martin [LMT] on Tuesday successfully completed a flight test of its Precision Strike Missile (PrSM) offering for the Army, reaching a range of 240 kilometers.
The demonstration at White Sands Missile Range in New Mexico was the first flight test for the PrSM program, with Lockheed Martin confirming that the next two tests are scheduled for the first half of 2020.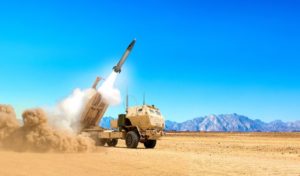 "Today's success validates all of the hard work our PrSM team has put into the design and development of this missile," Gaylia Campbell, the company's vice president of precision fires and combat maneuver systems, said in a statement. "We are confident that our years of demonstrated experience in delivering unmatched precision fires capabilities for our U.S. Army customer and our commitment to ensuring affordability will result in the best PrSM option."
Lockheed Martin is competing with Raytheon [RTN] for PrSM, which is set to replace the Army's legacy ATACMS missiles, with plans to award a product contract in 2021 and begin initial fielding in 2023. 
"The rocket successfully followed its flight path to the target and all systems worked within the test parameters. An extremely successful test," James Ackermann, a highly qualified expert with the Army's Long Range Precision Fires Cross Functional Team (LRPF CFT), told Defense Daily.
The test included launching a fully-integrated version of Lockheed Martin's PrSM offering from its HIMARS launcher, and confirming the missile was able to meet flight trajectory performance, range and accuracy "from launch to warhead event" and testing the system's software performance.
PrSM's current maximum range requirement is 499 kilometers, and Ackermann noted subsequent tests will continue increasing toward the maximum range.
Col. John Rafferty, director of the LRPF CFT, told reporters in October the Army may consider increasing the PrSM range requirement to 800 kilometers following the dissolution of the Intermediate-Range Nuclear Forces Treaty with Russia that had previously limited extended ranges for such weapons (Defense Daily, Oct. 16). 
Ackermann told Defense Daily the first flight test for Raytheon's offering is planned for 2020.