The Army's top acquisition official told a House panel on Thursday the service has received interest from at least 11 companies regarding the restarted Optionally Manned Fighting Vehicle (OMFV) competition, and he believes the original group of competitors will look to participate again as well.
Bruce Jette, the senior acquisition executive, told lawmakers on the House tactical air and land forces subcommittee he believes removing the requirement to deliver physical bid samples for the new Bradley replacement prototype search will lower the bar for industry investment and grow the competition.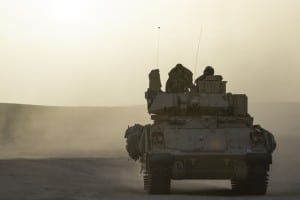 "So far, my estimate is that, at least, what I would consider the standard competitors are still intending to participate. And there are a number of others that have talked to the PEO already–I think they said 11 so far have talked to them about this," Jette said.
Rep. Donald Norcross (D-N.J.) pressed the Army officials at the hearing on potential industry resentment following the decision to terminate the program after investments had been made in vehicle development.
"They made a tremendous investment, by company. And here we are canceling the program. It could be for good reasons. I'm not disputing that. But we asked them to make an investment and now we're switching," Norcross said. "I know what we've heard and it hasn't been pretty, because of their investment. They felt as if we were going to be here we could have done this many millions of dollars sooner."
Jette said the Army's message to industry is that the new approach will center around digital designs to better leverage companies' engineering innovations and build on the investments made in next-generation technologies.
"In trying to go so fast, we asked for vehicle deliveries of prototypes at the very beginning. Instead, what we need to do is lower the bar. That itself pushed people out of the competition," Jette said. "In this case, going to a digital design requires them to be professional in their engineering capabilities but doesn't require them to necessarily bend metal. It also gives us an ability to take the money that we have in the program and apply it to multiple vendors to keep the competition in place longer."
The Army announced in mid-January it would cancel its acquisition effort for OMFV, which faced scrutiny after a single bid sample from General Dynamics [GD] was accepted for the program's prototype phase.
Vendors interested in the original competition also included BAE Systems, SAIC [SAIC], and a team of Raytheon [RTN] and Germany's Rheinmetall.
"I understand this is a sting. I understand some of the things they've done are still viable and useful in the next phase," Jette said. "We made it clear that OMFV is continuing. The objective that we were pursuing is unchanged. It's the methodology by which we're trying to get there [that has changed]. Their investments will continue to contribute to their next submission, and we expect them to participate."