A Navy official said they expect to finally start receiving a few new Ship-to-Shore Connector (SSC) Landing Craft Air Cushion (LCAC)-100 craft in 2020, but several technical and production issues remain.
During the annual Surface Navy Association symposium last week, Program Executive Officer Ships' Amphibious, Auxiliary and Sealift Office Executive Director Matt Sermon said the SSC test craft LCAC-100 successfully passed builders trials in summer and early fall 2019 and acceptance trials in late 2019.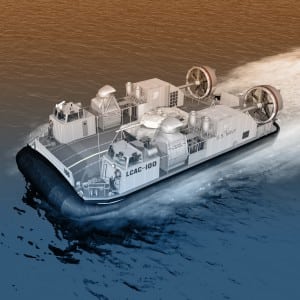 "That craft is going to be delivered here shortly and then head to Panama City where it will do the post-delivery test and trials and a lot of the test and evaluation events," Sermon said.
However, he noted "there are still a handful of technical challenges as we seek to get an operational craft out the fleet. LCAC-101 is the craft we'll be working through those on."
SSCs are built by Textron [TXT].
Sermon said the Navy expects to get two to three SSCs delivered n FY 2020.
The Navy's FY 2020 budget request cut the SSC numbers from the Future Years Defense Program over the previous year plans from 32 to 21 total. This included requesting zero in FY '20. In budget documents the service said the cuts were due to contractual delays from FY 2017 to 2019 and delivery delays of craft awarded in FY 2015 and 2016 (Defense Daily, March 15, 2019).
However, the FY 2020 defense appropriations bill ended up adding one SSC for $65 million (Defense Daily, Dec. 17).
Sermon explained the last budget request cuts were related to how the Navy was trying to get LCAC-100 to builders trials and through acceptance trials while it also had to follow-up on a "large handful of not-atypical first of class kind of integration issues as we transition to some new engineering dynamics on the Ship-to-Shore Connector with enhanced capabilities of the LCACs."
He noted the Navy largely got through those issues last year and now expects to receive its first SSCs this year.
However, Sermon underscored there are still technical issues that must be resolved before the SSCs can deliver at a fleet capability.
There is also a "backlog from the delays we've seen on the program while ready. I think there's plenty of production test work to still be done at Textron as we head into the future acquisition plan."
The LCAC-100s are meant to replace the aging existing fleet of hovercraft LCACs that are reaching the end of their service lives. The new LCAC-100s are designed to last 30 years as they land surface forces at over-the-horizon distances from amphibious ships and mobile landing platforms.
LCAC-100 improvements include upgraded engines, fly-by-wire controls, higher payloads, a reduced crew, and simpler maintenance. The Navy expects to eventually procure up to 73 vessels.
Last year, a Navy official told Defense Daily the reduction in FY '20 craft requested was due to challenges in testing like electrical system stability and command, control, communications, computers and navigation integration. Altogether those delays were increasing cost and risk in the program while pushing back operational dates (Defense Daily, April 3, 2019).
A subsequent Government Accountability Office report said the SSC's gearbox showed gear slippage during testing after previously dealing with premature wear while there were previous issues in propulsion control (Defense Daily, May 13, 2019).