The Missile Defense Agency (MDA) awarded Lockheed Martin [LMT] a $912 million modification to a Terminal High Altitude Area Defense (THAAD) contract.
The award specifically covers THAAD element development and support services, raising the ceiling value of the contract from $2.335 billion to $3.247 billion. The contract is a sole source indefinite-delivery/indefinite-quantity contract.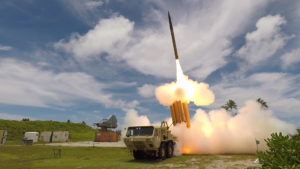 The Defense Department announcement explains the modification provides for the extension of the period of performance for additional incremental development, support to flight and ground test programs, and "responsive support to warfighter requirements to sustain the Ballistic Missile Defense System throughout the acquisition life cycle."
Lockheed Martin spokeswoman Dana Casey told Defense Daily the modification extends the current THAAD Advanced Capability Development contract for four years.
Work will occur in Sunnyvale, Calif., and Huntsville, Ala., and expected completion dates will later be established as individual task orders are awarded. No funding was obligated at the time of this award.
Casey said the ordering period for the extension runs from February 2021 to January 2025. Funds will be added incrementally as new task orders are awarded over the proceeding four years.
In March, the MDA awarded Lockheed Martin a $933 million modification under a separate contract to produce additional THAAD interceptors for the U.S. and Saudi Arabia (Defense Daily, March 25).