Elbit Systems of America has received a five-year deal, worth up to $79 million, to deliver new gunner hand stations, commander hand stations and circuit cards for the Army's Bradley Fighting Vehicles.
The company said Monday it has already received two separate purchases for $26 million and $12 million under the contract awarded by the Defense Logistics Agency.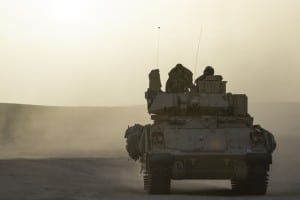 "These gunner and commander hand stations and associated spare parts will increase soldiers' operational effectiveness, while keeping them safe," Ridge Sower, the company's vice president of ground combat and precision targeting, said in a statement.
The new circuit cards will provide processing and power supply to the Bradley's hand station units, and will be issued to replace damaged equipment from active units.
"Our team is proud to offer critical ground vehicle modernization solutions for the U.S. Army to ensure accuracy and lethality for soldiers. Receiving this task order to support the Bradley Infantry Fighting Vehicle means U.S. ground forces remain equipped at all times with the very best technology to complete their missions," Raanan Horowitz, CEO of Elbit Systems of America, said in a statement.