The Navy on Thursday awarded Textron [TXT] a $386 million modification to build 15 Landing Craft Air Cushion (LCAC) 100-class Ship-to-Shore Connector (SSC) vessels.
The SSCs were developed to be a functional replacement of the Navy's aging existing LCAC vehicles that are nearing the end of their service life. According to the award announcement, the SSC vessels main mission is landing "surface assault elements in support of operational maneuver from the sea at over-the-horizon distances while operating from amphibious ships and mobile landing platforms."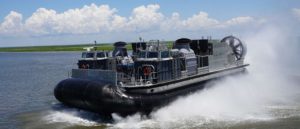 The Navy expects the SSCs to mostly transport assault weapon systems, equipment, cargo, and personnel from amphibious ships to a beach. The Navy said the SSCs will specifically be compatible with well deck-equipped ships, Expeditionary Transfer Docks (ESDs), and Expeditionary Sea Bases (ESBs).
Naval Sea Systems Command (NAVSEA) elaborated the LCAC-100 SSCs "will address the growing capability and capacity necessary to transport joint forces at the U.S. Marine Corps Marine Expeditionary Brigade, Army Brigade Combat Team, or similarly sized joint force to and across the beach."
The new SSCs are designed to have a 30-year service life, improved engines, fly-by-wire controls, higher payloads, a lower crew, and simpler maintenance compared to the older vessels. The improvements aim to increase vessel availability and reduce total ownership costs.
This modification covers LCACs 109-123. The Navy expects to eventually buy a total of 73 SSCs.
The work will largely occur at the company's facility in New Orleans and is expected to be finished by January 2025.
This award covers fiscal year 2017-2020 procurement of the SSCs.
"As the program continues to move forward with delivering these important capabilities to the fleet, the procurement of these additional craft is critical," Tom Rivers, program manager of the Amphibious Warfare Program Office for the Program Executive Office Ships, said in a statement.
The SSC has had a choppy history of delays.
Last year, the Navy's FY 2020 budget request cut the SSC procurement numbers compared to previous plans from 32 to 21 over the Future Years Defense Program, including requesting zero in FY 2020 due to a series of contractor delays running from 2015 to 2019 (Defense Daily, March 15, 2019).
The FY 2020 defense appropriations bill eventually added one SSC back into the budget for $65 million (Defense Daily, Dec. 17, 2019).
Last year a Navy official told Defense Daily the funding request reductions were due to testing issues including electrical system stability and command, control, communications, computers and navigation integration (Defense Daily, April 3, 2019).
Navy spokeswoman Colleen O'Rourke said delays increased cost and risk in the SSC program and thus FY '20 budget documents changed the procurement profile so Full Operational Capability was shifted three years back to FY '32
Navy acquisition chief James Geurts said last year part of the SSC problem was increasing reliability and integration, not that the overall design is flawed. He noted particular issues with with electronic compatibility and ensuring a robust power control system.
In May 2019, an annual Government Accountability Office assessment of the largest DoD programs elaborated on the issues with the SSC, noting in 2018 an LCAC-100 prototype lost propulsion and drifted into a bridge during pre-delivery testing (Defense Daily, May 13, 2019).
Since then, performance has seemingly improved.
Last month, Textron said it delivered the first SSC, LCAC-100, in February after undergoing integrated testing to demonstrate the fly-by-wire steering, electrical and propulsion systems. It completed acceptance trials in December 2019 (Defense Daily, March 10).
The company said the Navy will use LCAC-100 as a test and training craft while the next 13 SSCs are in various stages of production. LCAC-100 will be located in Panama City, Fla., where additional testing and crew training is set to occur.
In a statement, NAVSEA said the second vessel, LCAC-101, "is making tremendous headway and will head to sea within the next few weeks for Builder's Trials for assessment of its operational readiness."
The LCAC-101 trials will have the vessel undergo integrated testing in unloaded and loaded sates to ensure it meets all requirements.
The Navy noted the initial detail design and construction contract procured nine craft, with LCACs 102-108 currently in the later stages of production.