Under Secretary of the Navy Thomas Modly has become Acting Secretary in the wake of Richard Spencer's resignation over the handling of the Navy SEAL Eddie Gallagher's case, the Pentagon said Sunday.
"Secretary of Defense Mark T. Esper has asked for the resignation of Secretary of the Navy Richard Spencer after losing trust and confidence in him regarding his lack of candor over conversations with the White House involving the handling of Navy SEAL Eddie Gallagher," Defense Department spokesman Jonathan Hoffman said in a statement Sunday.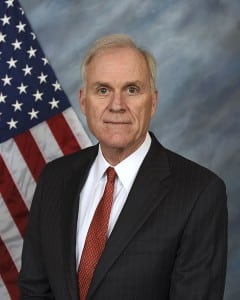 Modly is Acting Secretary of the Navy until a new Secretary is confirmed.
President Trump, in a tweet, pledged to nominate Kenneth Braithwaite, the current ambassador to Norway, to replace Spencer.
"A man of great achievement and success, I know Ken will do an outstanding job!" Trump tweeted Sunday.
Trump tweeted that Esper terminated Spencer after the president was not pleased with the way the Navy handled Gallagher's case in addition to "large cost overruns from past administation's contracting procedures were not addressed to my satisfaction."
Esper said Braithwaite "is somebody I've known for quite some time. I think he'd be very capable. It's my recommendation to the president. I'm always available to present a variety of options."
A Naval Academy graduate, Braithwaite served in the Navy and Navy Reserve for 27 years. He started as an aviator before shifting to public affairs, rising to Rear Admiral and serving as the Navy's Vice Chief of Information at the Pentagon. Braithwaite also served as a public affairs officer in the Reserve and deployed to Pakistan as the Director of Strategic Communications for the American Embassy in Islamabad.
From 2012 until his 2017 appointment as ambassador, Braithwaite served as a senior mentor for strategic communications at the NATO School in Oberammergau, Germany. He has also held several leadership roles in the private sector, a councilman in Pennsylvania, and State Director for former Sen. Arlen Spector, who was a Republican for many years before becoming a Democrat in 2009.
First reported by the Washington Post, the situation came after Trump intervened in the case of Gallagher and two other soldiers who have been accused and convicted of various crimes.
Esper told reporters Monday and in a statement Sunday that while Spencer publicly agreed with Esper and Chairman of the Joint Chiefs of Staff Army Gen. Mark Milley that the Gallagher case should proceed in normal order and they argued that to the White House, Spencer offered a private deal to the White House.
Spencer's proposal was if Trump allowed the Navy to handle the case, Spencer would guarantee Gallagher would be restored to rank, retain his Trident, and be permitted to retire.
"This proposal was completely contrary to what we agreed to, and contrary to Secretary Spencer's public position. Chairman Milley and I were completely caught off-guard by this information, and realized that it had undermined everything we had been discussing with the president," Esper said Monday.
Esper said after meeting with Modly and Chief of Naval Operations Adm. Michael Gilday on Monday "to discuss the way ahead" they agreed the department must focus on the institution and mission above any individual.
"These two men are capable leaders and I am confident in their ability to lead the Navy," he said.
Esper also said the Gallagher case has dragged on for months and is distracting too many, so it will end with him retaining his Trident and retiring at the end of the month, as ordered by Trump.
Spencer's resignation letter claims he resigned over disagreement with Trump over good order and discipline in the military, essentially the public disagreement.
"Unfortunately it has become apparent that in this respect, I no longer share the same understanding with the Commander in Chief who appointed me, in regards to the key principle of good order and discipline. I cannot in good conscience obey an order that I believe violates the sacred oath I took in the presence of my family, my flag, and my faith to support and defend the Constitution of the United States," Spencer said.
Esper said he cannot reconcile Spencer's personal statements with the public statements and written resignation "and that's why I lost trust and confidence."