The Missile Defense Agency (MDA) awarded Northrop Grumman [NOC] a $3.3 billion contract to design and manage new programs under the Ground-based Midcourse Defense (GMD) missile defense system.
Under this contract, the company is expected to design, develop, test and field the next GMD Weapon System (GWS) program. The announcement said this work includes systems engineering, design, development, integration, testing and fielding of software and hardware meeting warfighter needs and new requirements like the Next Generation Interceptor (NGI).
DoD said the GMD weapon system also includes "evolving threats with greater reliability, availability, maintainability and testability than the current system."
The GMD aims to protect the U.S. from a small number of intercontinental ballistic missiles, primarily the kind of weapons North Korea has. The NGI is under development as an improved rocket booster and kill vehicle to intercept missiles, supplementing and possibly ultimately succeeding the older Ground-Based Interceptor (GBI) variants. The interceptors are primarily based out of Fort Greely, Alaska with several also deployed at Vandenberg Space Force Base, Calif.
"As the GWS prime contractor, we will continue to work closely with MDA to optimize and develop modern missile defense systems to defend against evolving threats and provide advanced capabilities for the warfighter," Scott Lehr, Northrop Grumman vice president and general manager for launch and missile defense systems, said in a statement.
The company argued the GWS will change the current ground system portion of the GMD system "by utilizing a DevSecOps approach leveraging proven digital transformation processes to update and modernize legacy code, warfighter capabilities, and incorporate the Next Generation Interceptor fleet into the overall GMD system."
Boeing [BA] has held the development and sustainment contract (DSC) for the GMD system for over 10 years. In March, an MDA notice said it expected to extend Boeing's contract past the previous limit of late 2023 into 2024 (Defense Daily, March 8).
The Defense Department has spent years investigating a more optimal future management structure for GMD development, operations, sustainment and production rather than continuing Boeing's DSC work.
In 2018, MDA said it would not replace Boeing with itself as prime integrator for the GMD system after a review found such a change at the time would add an unacceptable amount of risk to the program (Defense Daily Jan. 18, 2018).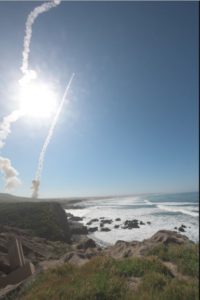 That same year, DoD awarded Boeing a $6.56 billion modification to extend the DSC contract through 2023, more than doubling the total DSC value to over $12.6 billion.
In 2021, MDA said it decided to split the DSC work into five separate contracts for a new GMD contracting architecture, called GM Futures. The new constituent parts include this GWS piece, systems integration, test, and readiness; and three sole-source contracts covering the in-service fleet (Defense Daily, April 21, 2021).
Then, last November, MDA issued a Request For Proposals (RFP) for the first new segment, GWS. According to the RFP, the awardee will continue to provide capability to operate the GMD weapon system; develop GWS software and hardware for both the current Ground Based Interceptor (GBI) and in-development Next Generation Interceptor (NGI) fleet; increase capacity, capability and throughput for messages between the communications systems and the kill vehicles; and update the legacy system to keep GBIs effective while NGI is under development (Defense Daily, Nov. 2, 2021).
The solicitation also said the GWS acquisition includes four product areas: GMD Fire Control, In-Flight Interceptor Communication System (IFICS) Data Terminal (IDT), Ground Support System (GSS) and the GMD Communication Network (GCN).
The RFP said MDA aimed to award the GWS contract to a single source with a base period of five years and an option to extend by another five years.
This contract to Northrop Grumman is split into three task and delivery orders: delivery order 001 is valued at $716 million, delivery order 002 as $424 million and task order 001 at $115 million.
The work will occur in Huntsville, Ala., and has an ordering period lasting from July 2022 through July 29, 2027.
The announcement said the contract was competitively procured but with only one proposal received. $76 million in fiscal year 2021 research and development funds were obligated at the time of award.