HUNTSVILLE, Ala. – A Northrop Grumman [NOC] official argued its team is well suited to develop and build the Next Generation Interceptor (NGI) for the Missile Defense Agency's Ground-based Midcourse Defense (GMD) system and is ahead of schedule as they move towards the Preliminary Design Review (PDR).
Talking to reporters here during a roundtable at the annual Space and Missile Defense Symposium, Northrop Grumman Vice President for the Next-Generation Interceptor Program Lisa Brown noted the company, with its partner Raytheon Technologies [RTX], brings over six decades of missile defense expertise to the competition and they deliver on commitments.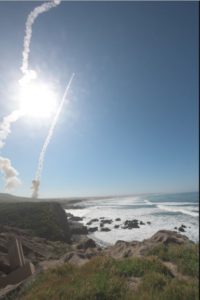 "We continue to work tirelessly to deserve the trust that MDA puts on us as we accomplish this mission. And to put an extremely fine point on that, as I communicate to the MDA, we do what we say we're going to do. We make a schedule commitment when we make any technical commitments on the program, we deliver on those commitments," she said.
MDA canceled the previous program to supplement and replace the older Ground Based Interceptors (GBIs), the Redesigned Kill Vehicle (RKV), due to several technical, cost and delay issues. The prime contractor on RKV was Boeing [BA] with Raytheon serving as subcontractor.
Brown underscored the team completed the system requirements review for NGI in a fully digital environment in late 2021 and finished all of their baseline reviews earlier in 2022.
"We completed all of our baseline reviews and our baseline reviews of our subcontractors, in early '22, with all actions closed in early '22. And we're ahead of schedule when it comes to our PDR marching forward. And again, our mantra is that we're steady state manufacturing already in place. We're fully transparent with MDA and we do what we say we're going to do," Brown said.
While the other NGI competitor, Lockheed Martin [LMT], this week announced a test milestone validating a prototype communications radio technology for its NGI bid, Brown was not willing to disclose any specific upcoming tests.
"So I did see that. And so both companies, obviously, are interested in presenting what are the major milestones or major test activities that have gone on. We, too, are marching down a path on our way to PDR. That includes building confidence in all of our systems," Brown said.
"I think since we're in an active competition, I'm not gonna go into detail, but you're gonna see those press releases as they come. But we are making significant progress. And, like I said, I think we're ahead of playing right now when it comes to PDR," she continued.
When asked by Defense Daily how ready the company is to potentially build more more than the planned 20 NGIs, Brown pointed to the company's production facilities.
" I think one of our towering strengths is that we have steady state production facilities already existing with the right level of manpower and folks already there. We obviously are, as I mentioned, fully transparent with MDA and will support whatever it is that they desire."
The number of NGIs MDA will ultimately buy is still in flux. While the agency previously planned to procure 20, to replace the number in the now-canceled RKV, both Congress and the agency have indicated they ultimately want more. MDA also previously procured 20 new missile silos at the primary GMD site at Fort Greely, Alaska.
The Senate Armed Services Committee's fiscal year 2023 defense authorization bill includes a section that would require the Secretary of Defense to provide Congress with a funding plan in the FY '24 budget request to acquire at least 64 NGIs (Defense Daily, July 25).
In May, MDA Director Vice Adm. Jon Hill told a Senate Armed Services Committee panel they intend to reach a decision on production around 2024. He said there are options to go beyond 20 new GBIs to fit in the already-expanded missile field or to also replace the current older Ground Based Interceptors (GBIs) (Defense Daily, May 23).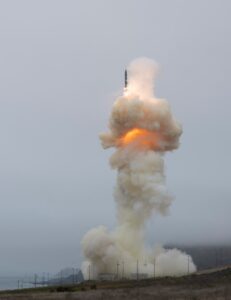 In 2021, MDA selected teams led by Northrop Grumman and Lockheed Martin to perform initial technology development and risk reduction work on NGI (Defense Daily, March 23, 2021).
The agency expects to keep the competition open at least through the critical design review phase, allowing it to conduct an NGI intercept and salvo test with both competitors' designs before moving to full production. The agency plans to pick a single design, but could split production between both, especially if the agency procures more than 20 NGIs.
Brown boasted about the team's production capabilities to show they are ready to build the NGI.
Northrop Grumman's Huntsville facility is a "nerve center and the center of mass for the overall program office, our program leaders, myself, systems engineering, programmers, and the functional staff focus on delivering to our commitments to our customer, and leading all the efforts across multiple sites."
Northrop Grumman and Raytheon also have a common software factory in Huntsville that she said gives MDA the ability to review the code they are developing and releasing "real time with full transparency."
"This full transparency with our customer, we believe, is key to reducing both technical and schedule risk. And, essentially, it's a seamless process where they can see everything that we're doing," Brown said.
"So we have a very high level of readiness with steady state production facilities that are already existing. And we believe that that's necessary to meet the cost and the schedule timeline needed for the nation and for the warfighters. Our headquarters is in Huntsville, Ala., for NGI. But we also have mature production locations … in Chandler and Tucson, Ariz., as well as northern Utah. Plus, we also have existing support personnel at Vandenberg Space Force Base and Fort Greely, Alaska," she continued.
Brown noted the company's launch facility in Chandler designs about two new rockets per year to go into production, for a total of over 65 rockets. Raytheon also has a space factory in Tucson with 50 to 60 years experience in "steady state manufacturing."
Northrop Grumman also has 60 years of rocket motor design, development, test and production and sustainment experience over three Utah facilities. This consists of 5.3 million square feet of manufacturing and office space spread across 29,000 acres that it has already used to start building some initial NGI rocket parts.
In June, Northrop Grumman said it started fabricating integral throat entrances for the NGI solid rocket motors at its Bacchus facility in Magna, Utah (Defense Daily, June 24).
"This special fiber weaving process is an example of our ability to rapidly develop, prototype, produce something to go into production very quickly again to meet the challenging schedule required to defend our homeland," Brown said.