HUNTSVILLE, Ala. – The director of the Missile Defense Agency (MDA) recently noted that while the Next Generation Interceptor (NGI) competition is proceeding well, the agency is limited in how much faster it can proceed and said the reviews of the bids will occur on different timelines, with the next reviews expected to occur starting next summer.
Vice Adm. Jon Hill, director of the MDA, spoke about the competition during a Defense News
webcast recorded here during the annual Space and Missile Defense Symposium and broadcast on Friday.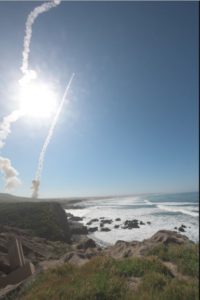 MDA chose two teams led by Northrop Grumman [NOC] and Lockheed Martin [LMT] to perform initial technology development and risk reduction work on NGI in 2021 (Defense Daily, March 23, 2021).
NGI is the next step beyond the current Ground Based Interceptors (GBIs) and replaces the previous Redesigned Kill Vehicle program. These interceptors are used in the Ground-based Midcourse Defense (GMD) system that aims to defend the U.S. from a limited number of nuclear ballistic missiles. The Defense Department plans to potentially use multiple kill vehicles per enemy missile to make sure they are hit.
The agency originally planned to procure 20 NGIs to be placed in silos already built at Fort Greely, Alaska, matching the previous RKV effort.
However, in May, Hill said the Defense Department will decide precisely how many NGIs it wants to order by 2024, if it changes from 20 (Defense Daily, May 23).
MDA has sought to keep the competition open at least through the Critical Design Review (CDR) phase, to have both competitors conduct intercept and salvo tests, before the agency chooses a single winner.
For both companies, MDA has completed a system requirements review.
"So in order to get there, you have to make sure that the technology you have is mature enough to move into the development cycle. And so when you come through system requirements review, that means the requirements that have been set, and the requirements that we're going to go build to have all been approved, and they are feasible, and so technically feasible, able to go execute. So that's really important. So we came to that milestone with both companies," Hill said during the webcast.
He said while the two teams are "very close,' their timelines for reviews do not exactly match up.
"But that's what you would expect, with two different approaches coming in," he said.
MDA is now moving toward the Preliminary Design Review (PDR) with both teams.
"What that really means is now taking those requirements and getting into the design process, and we say preliminary, that means we've come through all of the technology that's going to be incorporated into those rounds, that we de-risked all the hard risk areas, so that we can then move from preliminary design review, to critical design review. And we get to critical design, that means you've got a design that's close to the requirements, and you are ready to build," Hill said.
Both Northrop Grumman (Defense Daily, Aug. 9). and Lockheed Martin (Defense Daily, Aug. 10) last week said they are ahead of schedule as they move toward PDR.
Hill said the competition is currently "kind of halfway between systems requirements review on path to preliminary design."
When asked if PDR will take place by late fiscal year 2023, Hill responded that it "depends on which company you're talking about, so they'll be different. They'll be phased a little bit differently, so generally, next year summer fall-ish [2023] timeframe."
He added that CDR is then "typically about a year after" PDR.
In May, Hill said given the current progress, the first NGI missile is expected to be loaded into a silo a year earlier than previously planned, 2027-2028 (Defense Daily, May 23).
However, he now warned there is a limit to how much faster the program can move beyond the first missile ready by 2027.
"It's a great place to be, it's a great place to measure, but it is very early in the program."
Hill said when asked how much NGI can move, he noted, "both companies are saying they can get to first emplacement earlier than the government reference schedule of 2028. But I will tell you that there's a long road between now and then. And so we'll just keep on path. Both are performing very well, two different designs."
He also confirmed that both NGI competitors are including multiple kill vehicles per interceptor missile.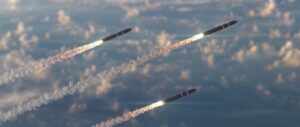 "That's where the threat drives us. And so we're managing that very well. The companies are doing really well."
During a closing speech at the symposium on Aug. 11, Hill played an MDA video showing a defense scenario taking place in 2023, followed by a note that the NGI will include multiple kill vehicles and be fielded as early as 2028.
While MDA has not confirmed precisely how many kill vehicles each NGI will hold, the video concept portrayed each missile holding five interceptors.
The Senate Armed Services Committee's fiscal year 2023 defense authorization bill includes a section that would require the Secretary of Defense to send Congress with a funding plan in the FY '24 budget request to acquire at least 64 NGIs (Defense Daily, July 25).
If the NGIs ultimately have five kill vehicles per missile and MDA ultimately buys 64 news interceptors, that equates to 320 kill vehicles plus possibly retaining any current GBIs. At that level, the number of kill vehicles gets close to the current level of Chinese nuclear weapons. MDA officials consistently say the mission of GMD is to defend against a smaller number of missiles from a potential adversary like North Korea or Iran.
According to Hans Kristensen and Matt Korda at the Federation of American Scientists nonprofit think tank, China is estimated to currently have roughly 350 operational warheads, with more in production.