General Dynamics [GD] Land Systems (GDLS) is readying to begin initial testing of its Advanced Reconnaissance Vehicle (ARV) prototype with the Marine Corps in September, before the company hands off the platform to the service in December ahead of the official six-month competitive evaluation effort.
Phil Skuta, GDLS' director of strategy and business development for U.S. Marine Corps and Navy programs, told
Defense Daily the company has utilized digital design over the last year to further refine its ARV offering, which builds off several years of research and development working with a technology demonstrator.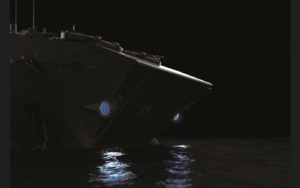 "We feel we are in the best position right now because we have the product, it is ready for production and we can manufacture the ARV when the Marines tell us to go," Skuta said in an interview. "And why are we so confident in that? Because we have been, for almost the last five years now, involved in successive efforts both internally with our own research and development where we built ARV capability based on the Marines' future concepts to support their Force Design 2030 initiatives as well as being under a previous contract for almost four years with the Office of Naval Research, that the Marines were very much a part of, in delivering a technology demonstrator that we demonstrated and tested fairly rigorously as well."
The Marine Corps last July selected General Dynamics and Textron Systems [TXT] for the 22-month ARV prototyping effort, with each company set to deliver a test vehicle ahead of the six-month evaluation to help inform whether to take the program into production (Defense Daily, July 16 2021).
Textron Systems has also previously detailed its purpose-built design, called Cottonmouth, noting it has tested loading and off-loading the Cottonmouth onto the Ship-to-Shore Connector Landing Craft Air Cushion-100 class, which it is already building for the Navy (Defense Daily, May 4 2021). 
Skuta noted that GDLS, which manufactures the Marine Corps' current Light Armored Vehicle-25s, began its own internal research and development work in anticipation of the Marines' pursuit of an ARV-like platform as far as back as 2017, to include building a technology demonstrator.
GDLS then won an Office of Naval Research deal to use the technology demonstrator for a science and technology phase to inform the Marine Corps' development of ARV requirements.
"During the science and technology phase, for instance, with our earlier technology demonstrator, we put about 60 total nautical miles in the Pacific Ocean on our vehicle," Skuta said. "The testing we've done, that really gives us the confidence we have in risk reduction so the Marines know this vehicle is ready for production. We've done the testing on the C4/UAS integration, the swim testing, additional blast kinetic testing we do in-house on our own"
Since receiving the award last year for the official ARV competitive prototyping effort, worth $10.5 million, Skuta said GDLS' has focused on digital design, System Integration Lab (SIL) work and risk reduction efforts to further refine its ARV offering to ensure the platform is ready for production if the Marine Corps moves in the direction.
"We've been finalizing our design work and that has principally been through our digital design that fills within our broader digital transformation processes. We can make the digital model and then, as we test that with modeling and simulation and eventually build it out with hardware and actual capability and materials, we know we're going to be 100 percent spot-on with our design. That builds in efficiencies," Skuta said. "Within the SIL you can disaggregate all the different capabilities, whether it's the sensors you have, cameras or other types of systems that are going to be on the vehicle. You're able to test those systems out in a controlled environment to make sure you've got the software correct, you've got the communications correct, before you actually put it onto the vehicle." 
The Marine Corps has designated a Command, Control, Communications and Computers/Unmanned Aerial Systems, or C4/UAS version of the ARV as the lead variant, which Skuta described as functioning like a "battlefield quarterback."
"They want this ARV capability to be able to coordinate and control both onboard and off-board sensors and other means to collect the intelligence, surveillance and reconnaissance information, the un-crewed air and, eventually, ground systems and then connect to the broader reconnaissance and battlefield networks," Skuta said. 
Skuta noted GDLS is also utilizing the digital design process to think through considerations for additional mission roles the Marine Corps is envisioning for the future ARV.
"We have taken this 'family of vehicles' approach, we like to say, upfront. We've already been in initial conversations with the Marines on the types of variants they're thinking about," Skuta said, specifically citing potential interest in a future variant capable of electric vehicle recharging capability. "They're forward thinking about the future battlefield and needing an exportable power activity, whether that's for recharging or command post-type of power demands. So through our own strategic investments and our own internal research and development activity, we are looking at things from hybrid-electric propulsion for our vehicles to how we generate, store and distribute power on the battlefield."
A Marine Corps sources sought notice released last December detailed plans for the C4/UAS and precision fires as the first two ARV variants, to be followed by a 30mm cannon version, a recovery variant, a logistics variant and a counter-UAS variant in follow-on phases.
BAE Systems recently told Defense Daily  it's eyeing the ARV program as an opportunity to build out additional variants of its own Amphibious Combat Vehicle (ACV), and the company showcased a C4/UAS version of the ACV and a new Organic Precision Fires concept vehicle at May's Modern Day Marine conference in Washington, D.C. (Defense Daily, May 11). 
The Marine Corps has previously tasked BAE Systems with integrating a suite of C4/UAS capabilities onto an ACV to study if such a platform could meet the ARV mission requirements.