The Marine Corps announced on Friday it has selected General Dynamics [GD] Land Systems and Textron's [TXT] Textron Systems for its Advanced Reconnaissance Vehicle (ARV) prototyping effort, with each company slated to deliver a test vehicle in early fiscal year 2023.
The two companies were the only firms to submit bids for the program and negotiations on the prototyping deals are expected to be completed by the end of August, Barb Hamby, a spokesperson for the Marine Corps' Program Executive Office-Land Systems, confirmed to Defense Daily. The value of each prototype deal will be finalized once negotiations are completed.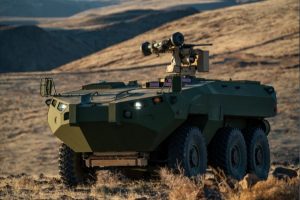 "General Dynamics Land Systems has aligned with the Marine Corps' 10-year transformational initiative, a key portion of which seeks to build a 21st-century reconnaissance capability that is highly mobile on land and in the water," Phil Skuta, GDLS' director of business development for U.S. Marine Corps and Navy, said in a statement.
After each company delivers one prototype vehicle, the Marine Corps will conduct a six-month evaluation that will inform a decision on whether or not to take the ARV program into production.
ARV is set to include a Command, Control, Communications and Computers/Unmanned Aerial Systems, or C4/UAS, payload that will allow operators to control both tethered and untethered UAS capabilities. 
"These systems will enable ARV to serve as the manned hub of a manned/unmanned team and deliver next-generation, multi-domain, mobile reconnaissance capabilities," the Marine Corps wrote in a statement. 
The Marine Corps noted it's also pursuing a parallel effort that will look at incorporating the ARV's C4/UAS payload onto its new Amphibious Combat Vehicle, built by BAE Systems, who did not submit a bid for the ARV prototyping program.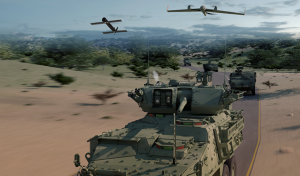 "BAE Systems has received task instructions from the U.S. Marine Corps to complete a study of incorporating Advanced Reconnaissance Vehicle – Command, Control, Communication and Computers/Unmanned Aerial Systems mission payload on an Amphibious Combat Vehicle variant, a new off-the-shelf Amphibious Combat Vehicle variant that will provide the transformational technology Marines need to observe their surroundings, collect and integrate information, and sense new targets over the horizon. We are looking forward to delivering a solution that meets the needs of USMC's modernization efforts," Liz Delano, a BAE Systems spokesperson, told Defense Daily. 
GDLS, which manufactures the Marine Corps' current Light Armored Vehicle-25s, told reporters previously its ARV offering will have capability to "control air and ground robotics and provide critical reconnaissance information through onboard and networked sensors" (Defense Daily, May 6). 
Textron Systems has also previously detailed its purpose-built design, called Cottonmouth, noting it has tested loading and offloading the Cottonmouth onto the Ship-to-Shore Connector Landing Craft Air Cushion-100 class, which it is already building for the Navy (Defense Daily, May 4).