The Missile Defense Agency (MDA) is aiming to split the existing Ground-based Midcourse Defense (GMD) system development and sustainment contract (DSC) into five separate contracts in an effort called GM Futures, according to a new notice.
The new architecture would split the DSC into separate awards for the Ground-Based Midcourse Defense Weapons System; systems integration, test and readiness; and three sole-source contracts for the in-service fleet.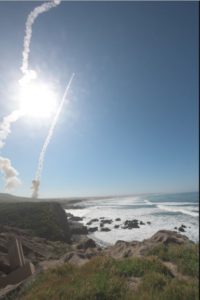 To this end, MDA issued a draft Request for Proposals (RFP) to design, develop, test and field the next GMD Weapon System (GWS) program.
The notice said the new GWS acquisition "will continue to provide warfighter capability to operate the GMD weapon system, develop GWS software and hardware for the current Ground Based Interceptor (GBI) and upcoming Next Generation Interceptor (NGI) fleet (with up to two different initial development designs), increase capacity, capability and throughput for messages between communications systems and Kill Vehicles (KV), and update the legacy system to remain effective while NGI is under development."
Boeing [BA] is currently the prime integrator for the GMD system and holds the award for the current DSC contract.
This change in DSC structure comes after years of analysis in the future GMD development, operations, sustainment and production (DOSP) strategy.
In early 2018, DoD said it decided not to assume the prime integrator role for the GMD system, which would replace Boeing, after concluding doing so at the time would add an unacceptable level of risk (Defense Daily Jan. 18, 2018).
Leading up to that decision, the MDA director used an independent review team of outside experts to evaluate the DOSP strategy and MDA readiness to to execute the strategy over fiscal years 2018 to 2022. The team concluded MDA was not ready to assume the prime integrator role and implement the DOSP strategy while also developing incremental capabilities like adding new radars and kill vehicles.
Subsequently, Boeing won a $6.56 billion modification to extend its DSC contract for GMD. That contract covered the development, fielding, test, systems engineering, integration and configuration management, equipment manufacturing and refurbishment, training, and operations and sustainment for the GMD weapon system and support facilities (Defense Daily, Feb. 12, 2018).
That DSC extension, with options, more than doubled the DSC value from $6.1 billion to $12.64 billion and had a performance period lasting through late 2023.
Under this new framework effort, the notice said MDA intends to competitively award an indefinite delivery/indefinite quantity contract to a single source via full and open competition.
However, DoD underscored the draft RFP is not the final RFP and is for information and planning purposes only. Industry can provide feedback to the draft but the government said it does not want complete proposals yet. Feedback is particularly desired in contract structure and content, task order content, incentives, and clauses pertaining to synchronization across GMD contracts.
Responses are due by May 3.