A bipartisan group of lawmakers reintroduced a bill Wednesday aimed at bolstering U.S. research and development(R&D) efforts to stay ahead of China, to include establishing a new directorate to invest $100 billion over five years in emerging technology efforts.
The Endless Frontier Act, led by Senate Majority Leader Chuck Schumer (D-N.Y.), Sen. Todd Young (R-Ind.) and Reps. Ro Khanna (D-Calif.) and Mike Gallagher (R-Wisc.), would also invest $2.4 billion to enhance U.S. manufacturing, authorize $10 billion at the Department of Commerce to support 10 new regional technology hubs and establish a new Supply Chain Resiliency and Crisis Response Program.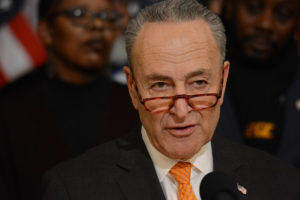 "This legislation will enhance American competitiveness with China and other countries by investing in American innovation, creating good-paying American manufacturing and high-tech jobs, and strengthening America's research and development capabilities. The Endless Frontier Act is the key to preserving America's position on the world stage as a current and future technological leader in the 21st Century," Schumer said in a statement.
The bill, which was originally introduced last year and has since picked up a larger roster of cosponsors, is part of a push by Schumer to introduce several pieces of bipartisan legislation this spring he has said will be required to "outcompete China" (Defense Daily, Feb. 23).
The new Technology and Innovation Directorate within the National Science Foundation, proposed in the bill, would be tasked with using the $100 billion to advance R&D initiatives in 10 technology areas, to include artificial intelligence, semiconductors, quantum computing, robotics, advanced communications, biotechnology, and advanced energy.
A summary of the bill notes this new directorate would have "DARPA-like authorities" to utilize program managers for selecting awardees to work on high priority research efforts. DARPA is the Defense Department's Defense Advanced Research Projects Agency that invests in high-risk, high-payoff projects with industry and academia.

The new Supply Chain Resiliency and Crisis Response Program would be focused on "strengthening critical technology supply chains in the U.S. and with global allies and partners," and the bill also mandates the creation of a strategy for "national competitiveness and ingenuity in science, research, and manufacturing."
Schumer has previously said he is specifically concerned on U.S. challenges in establishing a domestic supply chain for semiconductor and computer chip production.
"We cannot rely on foreign processors for the chips. We cannot let China get ahead of us in chip production. This will be part of the proposal that we will introduce," Schumer said in February.
The bills additional cosponsors include six Democrats and six Republicans in the Senate and three Democrats and two Republicans in the House.
"We welcome the bipartisan introduction of the Endless Frontier Act – one more encouraging sign of the bipartisan support for investing in America's competitiveness," White House Press Secretary Jen Psaki, said in a statement. "The President shares the co-sponsors' commitment to making a bold investment in American innovation—including large increases in funding at the National Science Foundation to support both R&D and commercialization, and new funding to support regional economic development so what is discovered in America can be made in America."
Rep. Frank Lucas (R-Okla.), ranking member on the House Science, Space, and Technology Committee, however, released a statement criticizing the bill as creating a "slush fund for the White House to spend on technology" and said the proposal "lacks strategy, focus, and practical solutions."
"I have been a strong advocate for prioritizing investment in American science and technology, so while I welcome Senator Schumer to this important discussion, the Endless Frontier Act is both problematic legislation and a flawed approach to driving American innovation," Lucas wrote, noting earlier this month he reintroduced the Security American Leadership in Technology Act which would create a national science and technology strategy and double basic research funding over the next 10 years.