A bipartisan group of House lawmakers introduced a bill Friday that would establish a $750 million grant program to accelerate deployment of U.S.-manufactured 5G technologies.
The USA Telecommunications Act of 2020 is intended to promote competition among American 5G suppliers following previous legislation looking to ban the use of technologies from Chinese telecommunications firms.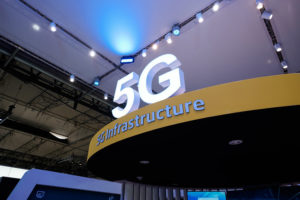 "Earlier this year, Congress took strong action to protect our communications networks against foreign interference from dangerous companies like Huawei and ZTE. Now, we must follow that up by promoting equipment and technologies that can ensure a more diverse, sustainable and competitive supply chain for America's 5G networks," Reps. Frank Pallone Jr. (D-N.J.), Brett Guthrie (R-Ky.), Doris Matsui (D-Calif.) and Greg Walden (R-Ore.) wrote in a joint statement.
The bill creates the Wireless Supply Chain Innovation Grant Program within the National Telecommunications and Information Administration (NTIA) to distribute up to $750 million in competitive grants towards 5G related projects.
A new FCC advisory committee would be tasked with advising NTIA on 5G technology developments to guide the use of the grant program for deploying new network technologies.
Under the bill, NTIA would be required to submit a yearly report to Congress on grants that were awarded and detailing the current state of the 5G network supply chain within 180 days of the bill's passage.
"The 'USA Telecommunications Act of 2020' will encourage more competition in the network equipment market and help lower costs for trusted equipment over the long term. By promoting a more competitive market of trusted alternatives to suspect 5G equipment, we can more easily secure our critical networks and bring like-minded countries with us. We look forward to moving this bill through Congress soon," the lawmakers wrote.
Sens. Mark Warner (D-Va.) and Richard Burr (R-N.C.) introduced similar legislation (S.3189) in January.