The House and Senate's final version of the $738 billion fiscal year 2020 defense policy bill calls on the Pentagon to more rapidly develop 5G telecommunications technologies, including delivering implementation strategy and authorizing $275 million for research and development efforts.
The conferenced version of the FY '20 National Defense Authorization Act (NDAA) released Monday evening directs the Secretary of Defense to establish 5G wireless network components and capabilities at no fewer than two installations within the next year.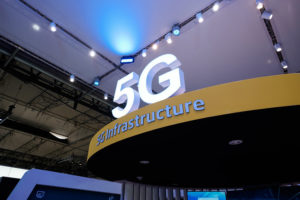 "The conference report recognizes the importance and urgency of establishing a department-wide 5th Generation strategy to enhance military capabilities," lawmakers wrote in the
summary of the NDAA report.
Lawmakers authorized $275 million in the bill toward establishing R&D programs for 5G at the Nevada Test and Training Range and any other sites the Secretary deems appropriate for telecommunications experimentation.
Within 270 days of the NDAA passing, the Secretary of Defense would be required to submit a strategy for "harnessing 5G information and communications technologies to enhance military capabilities, maintain a technological advantage on the battlefield, and accelerate the deployment of new commercial products and services enabled by 5G networks."
A future 5G strategy would include input from the DoD CIO, the under secretary of defense for research and engineering, the Pentagon's lead acquisition official, the under secretary of defense for intelligence and each of the service acquisition executives. 
Beginning in March of next year, the Secretary of Defense would be responsible for providing the congressional defense committees with an update on 5G development and implementation every three months through March 2022. 
The NDAA bill report details lawmakers interest in demonstrating range of potential 5G opportunities, including dynamic network slicing, spectrum sharing, advanced network security technologies, and general base infrastructure installation of "high bandwidth, scalable, and low latency 5G wireless networking technology."
Lawmakers also call on the department to explore 5G capabilities for augmented reality of synthetic training environments, IoT devices, autonomous systems and advanced manufacturing. 
The Pentagon has recently detailed plans for its first 5G pilot programs, including projects to test smart warehouses for the Marine Corps and dynamic spectrum sharing with the Air Force (Defense Daily, Dec. 2). A second notice released Monday described two additional programs to test virtual reality capabilities with the Army and explore 'smart warehouse' technologies for the Navy (Defense Daily, Dec. 9).