Pentagon officials will meet with Microsoft [MSFT] in Washington, D.C., this week for a series of meetings to begin work on the potential $10 billion Joint Enterprise Defense Infrastructure (JEDI) cloud program, Pentagon officials said on Tuesday.
The discussions with Microsoft to begin preparing for JEDI cloud implementation arrive as Amazon [AMZN], which lost out on the contract, has officially filed a lawsuit protesting the award and alleging outside political influence in the contract decision.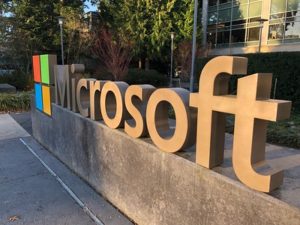 "The Department of Defense is confident in the JEDI cloud contract award and remains focused on getting this critical capability into the hands of our warfighters as quickly and efficiently as possible. The department's Cloud Computing Program Office continues to work with Microsoft to prepare the JEDI Cloud environment," Elissa Smith, a department spokesperson, said on Tuesday. 
Smith also confirmed that Dana Deasy, the Pentagon's chief information officer, will be participating in this week's meetings with Microsoft.
"As the selected contractor to support the DoD in its mission to modernize its enterprise cloud, we are diligently working with the Cloud Computing Program Office to bring this critical new technology to our men and women in uniform," a Microsoft spokesperson told Defense Daily. 
Ellen Lord, the department's top acquisition official, spoke to reporters earlier on Tuesday and noted that officials will hold an initial JEDI meeting with Microsoft on Wednesday, while declining to comment on Amazon's protest. 
"We will deal with Amazon's legal actions, and I can't comment on those right now," Lord said. "We are moving right now forward with the JEDI contract. We actually have a kickoff event with Microsoft tomorrow morning, so we are moving forward."
Amazon has said previously its decision to protest the JEDI cloud award was based on its view the evaluation process "contained clear deficiencies, errors, and unmistakable bias and it's important that these matters be examined and rectified," (Defense Daily, Nov. 15). 
Since Amazon is challenging the contract as a lawsuit filed to the U.S. Court of Federal Claims, rather than as a protest with the Government Accountability Office, there is no stay on the program and the Pentagon is able to begin work with Microsoft. 
A source familiar with the situation told Defense Daily this week's series of meetings are initial discussion about the execution of the contract and intended to ensure the Pentagon is set up to begin cloud technology implementations.