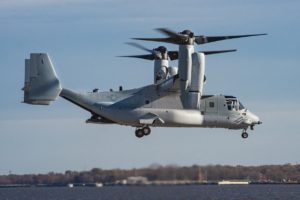 Bell [TXT] and Boeing [BA] delivered the first modified MV-22 Osprey to the U.S. Marine Corps as part of a program to upgrade older aircraft and reduce the number of configurations present in the force, the companies said on Wednesday.
Through the Common Configuration Readiness and Modernization (CC-RAM) program, Bell-Boeing team plans to upgrade most or all of the Marines' 129 Block B aircraft — delivered in 70 configurations, incorporating new technology to each aircraft as it became available — to ideally five Block C configurations, reducing complexity of operations and increasing readiness and reliability of the fleet.
Earlier this year, the fleet's readiness rate stood at 52 percent including both the Marine Corps' MV-22 and the Air Force Special Operations Command's CV-22. Former Defense Secretary Jim Mattis set a goal of 80 percent readiness, which V-22 Program Manager Col. Matthew Kelly said in May was achievable but will take some time to reach.
"Our first CC-RAM aircraft returning to MCAS New River was a key program benchmark," said Col. Matthew Kelly, program manager of the V-22 Joint Program Office. "We are excited to see the capability, commonality and readiness improvements these CC-RAM aircraft bring to the fleet as part of the Marine Corps' V-22 readiness program."
The aircraft delivered back to the Marines flew from Marine Corps Air Station New River to Boeing's facility in Philadelphia in 2018 for modernization.
"This delivery is an important milestone for the Marine Corps' MV-22 readiness and modernization campaign." said Chris Gehler, Bell V-22 vice president and program director. "Through this campaign, Bell Boeing, in partnership with HQMC and NAVAIR, is returning improved MV-22s to the fleet where the V-22 continues to be an essential aviation resource worldwide."
The next CC-RAM delivery is expected in early 2020. In November 2019, the U.S. Navy awarded Bell-Boeing $146 million to upgrade nine additional MV-22 aircraft under CC-RAM, with work expected to be completed in March 2022.