The Pentagon is readying to release proposal requests for the department's first 5G telecommunications pilot programs, with officials soliciting industry feedback on projects to test smart warehouses for the Marine Corps and dynamic spectrum sharing with the Air Force.
Request for prototype proposals for the initial projects will be distributed to members of the National Spectrum Consortium in the coming weeks, according to a new notice
, which will be followed by two more draft RPPs for the next pilot programs.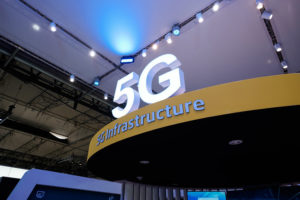 Pentagon officials previously announced in October plans to start large-scale experimentation with 5G technology at four installations across the country to enhance current military capabilities and more rapidly deploy 5G to the force (Defense Daily, Oct. 23).
The first RPP will focus on a "smart warehouse" program at Marine Corps Logistics Base Albany in Georgia to demonstrate 5G-enabled tools to improve warehouse operations.
"These 5G-enabled smart warehouse technologies should improve the efficiency, accuracy, security, and safety of materiel and supply handling, management, storage, and distribution," officials wrote. "The intended outcome of the project is a 5G-enabled military Smart Warehouse that can not only enhance efficiency and safety well beyond the limits of current processes, but also serve as a proving ground for testing, refining, and validating emerging 5G enabled technologies for large-scale military logistics operations."
The second project will be located at Hill Air Force Base in Utah and looks to develop 5G dynamic spectrum sharing capabilities between airborne radar systems and 5G cellular systems in overlapping spectral bands, specifically the 3,100-3,450 MHz band, according to the draft RPP notice.
"The objective of this effort is to construct and operate a localized full scale 5G mobile cellular network in order to evaluate the impact of the 5G network on airborne radar systems and the radar systems' impact on the 5G network, employing both active and passive techniques to enable sharing or coexistence," officials wrote. "The outcome of the project will be capabilities, e.g. fieldable equipment and control systems, and processes to allow radar spectrum sharing or coexistence with cooperating and non-cooperating 5G networks."
The Pentagon also noted it has agreed to a five-year deal with the National Spectrum Consortium to manage 5G pilot program process by distributing documents and contract notices.
"Only one such consortium, the National Spectrum Consortium, encompasses the expertise, knowledge, technologies, and innovation needed to perform coordinated research and development to advance better use of the electromagnetic spectrum," officials wrote.
The final RPPs will be distributed to members of the consortium, with companies able to submit individual proposals or team up to submit a combined proposal.
Responses to the draft RPPs for the initial two projects are due by Dec. 16.
The next two draft RPPs will be issued for projects to be based out of Joint Base Lewis-McChord in Washington and Naval Base San Diego.