The Pentagon on Wednesday announced its latest round of 5G pilot programs that will be based at seven installations and range from wireless connectivity demonstrations to security experiments, with plans to release solicitations to industry this summer.
Dr. Joseph Evans, the department's lead for 5G, told reporters the "Tranche 2" tests will be hosted at Naval Base Norfolk in Virginia, Joint Base Pearl Harbor-Hickam in Hawaii, Joint Base San Antonio, the National Training Center at Fort Irwin in California, Fort Hood in Texas, Camp Pendleton in California and Tinker Air Force Base in Oklahoma.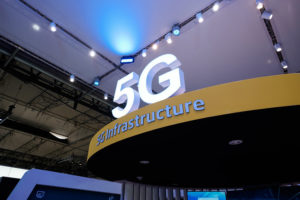 "These bases were selected for their ability to serve as large-scale test facilities to enable rapid experimentation as well as dual-use application prototyping," Evans said during a press briefing.
A request for proposal (RFP) will be released in the coming weeks, according to Evans, with a goal to have industry working at the various sites by the end of this fall.
"DoD recognizes that industry is driving 5G technology with massive investments in the many hundreds of billions of dollars. Because of that, DoD is working closely with industry partners to leverage those investments for military applications," Evans said.
The latest round of 5G pilot programs will specifically focus on ship-wide and pier connectivity at Naval Station Norfolk, enhancing aircraft mission readiness at Joint Base Pearl Harbor-Hickam, augmented reality at Joint Base San Antonio, wireless connectivity for Forward Operating Bases and Tactical Operations Centers at the NTC and Fort Hood, network security tests at Joint Base San Antonio and bi-directional spectrum sharing at Tinker AFB.
Evans said selection criteria for the various installations included mature fiber and wireless infrastructure, streamlined access to spectrum bands and access to prototyping test areas and training ranges.
The Pentagon has previously announced an initial "Tranche 1" group of five pilot programs, to include smart warehouses at Marine Corps Logistics Base-Albany in Georgia and Naval Base San Diego, augmented and virtual reality at Joint Base Lewis-McChord in Washington and dynamic spectrum sharing at Hill AFB in Utah.
Evans told attendees during an online AFCEA event earlier on Wednesday that solicitations to participate in those programs closed last Friday.
Last Thursday, the Pentagon also announced plans to partner with the Air Force Warfare Center to build a mobile 5G cellular network at Nellis Air Force Base in Nevada that will host software prototype tests starting next January (Defense Daily, May 28).
"We're very excited by this one where we're looking at disaggregating command and control. So take an Air Operations Center, the command center, and break it into its constituent pieces connected by 5G technology. Start by breaking it apart, then make it transportable so you can move it around it easily. The third part is then making it mobile," Evans said during the AFCEA event.
An RFP to support building the testbed at Nellis AFB will be released within days, according to Evans, while follow-up RFPs for individual network experiments will be out in a few weeks.