Senate Majority Leader Chuck Schumer (D-N.Y.) said Tuesday he is working to bring a bill to the floor this spring aimed at bolstering the U.S. semiconductor manufacturing capacity and investing in emerging technology areas required to "outcompete China."
Schumer's remarks followed a Senate Armed Services Committee hearing earlier in the day where Eric Schmidt, the former Google CEO and currently co-chair of the National Security Commission on Artificial Intelligence (NSCAI), urged lawmakers to begin the "long, complicated and painful" process of reducing reliance on foreign semiconductor production.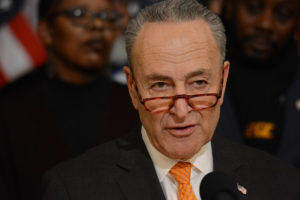 "Right now, semiconductor manufacturing is a dangerous weak spot in our economy and in our national security. That has to change," Schumer said during a press briefing. "We cannot rely on foreign processors for the chips. We cannot let China get ahead of us in chip production. This will be part of the proposal that we will introduce."
The legislation, which Schumer said will be bi-cameral and bipartisan, is expected to include emergency funding to implement a semiconductor manufacturing program aimed at addressing a shortage of chips and processors with enhanced domestic production.
During Tuesday's SASC hearing, Sen. Tom Cotton (R-Ark.) pressed the witnesses on U.S.' reliance on Taiwan for semiconductor manufacturing, specifically with the firm TSMC, calling it "dangerous because Beijing considers Taiwan to be part of [China]."
"But it's fair to say, if you want a leading piece of hardware, which is what we all need to do what we do, you're probably going to use a vendor called TSMC which is the one in China. They're just faster, better, etc.," Schmidt said in response to Cotton. "We were in this [semiconductor] business. We got out of business. We should get back into it."
Schmidt noted a key recommendation in the NSCAI's upcoming report to Congress, set to be released on March 1, is that the U.S. needs to stay two semiconductor generations ahead of China.
NSCAI is specifically calling for boosting microelectronics spending by around $30 billion over the next five years, to include help subsidizing the construction of new semiconductor manufacturing facilities and bolstering funds for federal microelectronics R&D efforts (Defense Daily, Feb. 22).
The Pentagon's acquisition office has previously discussed the potential need for a national policy to assist with reshoring suppliers for microelectronics to move away from relying on manufacturers in China (Defense Daily, July 16 2020).