The Naval Air Force Atlantic conducted a test of the Blue Water maritime logistics Unmanned Air System (UAS) on Feb. 21, the service said Monday.
The Blue Water UAS is a long-range cargo transport designed to operate with naval forces "that typically operate in heavy winds over open water and require aircraft to land on pitching vessels at sea," the Navy said.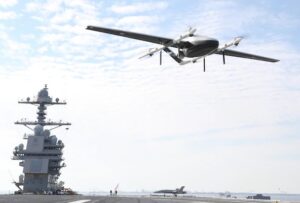 This technology demonstrator prototype is currently able to operate in some of the conditions the Navy is aiming at, but further development is needed to meet the full requirement.
This proof-of-concept test involved transporting light-weight logistical equipment from the Mid Atlantic Regional Maintenance Center (MARMC), Naval Station Norfolk on board USS Gerald R. Ford (CVN-78), while the aircraft carrier was in port.
Last year, the Naval Air Warfare Center Aircraft Division (NAWCAD) said it acquired the Blue Water prototype in October to demonstrate long-range unmanned naval ship-to-ship and ship-to-shore cargo transport (Defense Daily, Nov. 16, 2020).
The Blue Water aircraft is a Group-3 class UAS from Skyways Air Transportation Inc.
Previously, the Navy solicited industry to demonstrate existing viable platforms that could autonomously transport a 20-pound payload to a moving ship 23 miles away without refueling. The service analyzed over 65 UAS options and found two partially met requirements. Those two were tested during NAWCAD's first Advanced Naval Technology Exercise in 2019. Thereafter, NAWCAD selected the Skyways UAS.
"The Ford Blue Water UAS supply demo is a first step in revolutionizing logistics support to maximize operational availability and lethality for these critical capital assets," Capt. John Bush, Director, Aircraft Material and Engineering, Naval Air Forces Atlantic, said in a statement.
"This UAS demonstration leverages cutting edge technology to enhance our logistical efficiency across the Naval Air Force. We have come a long way in integrating unmanned systems in Naval Aviation and the lessons learned today will help to accelerate this capability to the fleet," Rear Adm. John F. Meier, commander of Naval Air Force Atlantic, added.
The service reiterated historical data from casualty reports show warships often move to non-mission capable or partially mission capable status due to logistics issues. In particular, 90 percent of electric parts needed in these situations are deliveries weighing under 50 pounds.
While the Lockheed Martin Sikorsky [LMT] MH-60 Sea Hawk helicopters and the Bell [TXT]-Boeing [BA] MV-22 tilt-rotor aircraft currently fly these logistics missions, the Navy sees Blue Water UAS as an option to reduce costs and inefficiencies for these flights.
"Carrier logistics is a complex and diverse problem set. Sometimes getting a small part delivered to the ship has a big impact on the availability of an embarked system or aircraft. Having UAS like Blue Water may improve our ability to quickly meet specific logistics needs where payload and ship's location permit," Capt. Paul Lanzilotta, Gerald R. Ford's commanding officer, said.
NAWCAD plans to continue working to further in-house UAS development by working with industry on factors like folding wings for better handling and ship storage, consider alternative air vehicle designs with propulsion systems that offer greater range and payload performance, optical and infrared collision avoidance and landing systems, and navigation systems that are not entirely dependent on GPS.
"Developmental platforms like our Blue Water UAS are important for exploring opportunities to maintain a competitive edge with top-tier technology and improve the logistical support of America's Sailors and Marines," NAWCAD Commander Rear Adm. John Lemmon said in a statement.
The Navy noted the Blue Water UAS required minimal maintenance and uses a small control station the size of a small suitcase or shoebox, "netting near zero infrastructure."
Blue Water experimentation is set to continue throughout the year.